NeW Space: UoN's $95million campus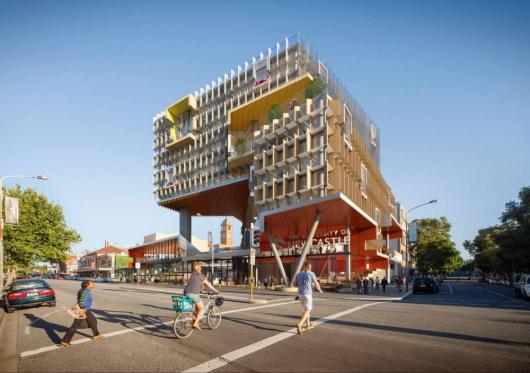 Early concepts have been revealed for University of Newcastle's $95 million CBD education precinct. It's a technology rich, 10 storey high, vertical campus that will occupy the corner of Hunter and Auckland Streets. The project is scheduled for completion by the start of the 2017 academic year.
NeW Space, has been designed by Melbourne firm Lyons Architecture, who, working with local architect firm EJE Architecture, have developed a contemporary concept for learning in changing times. An open and accessible space, designed to bring the city in through the use of social spaces, connecting pathways, and active student learning areas that will be located on street level at the front of the buildings.
The vertical nature of the space encourages students and the community to learn and explore from the ground floor up. The way students will learn and interact in a technological driven world has instructed the layout of the site, included are social learning spaces, collaborative learning and research breakouts, digital library services and information common areas, business and law program facilities, and room for engagement with industry, business, and the community.
According to the University of Newcastle website "NeW Space will provide a platform for our staff to develop and test innovative ideas to deliver a 'next generation' university experience."
Vice-Chancellor, Professor McMillen said "The technology-embedded learning environments have been designed to provide flexibility and adaptability to switch between multiple modes within a class and between classes taking the teaching, learning and research landscape beyond the traditional lecture theatre or office."
 "NeW Space will be a landmark development in our great city providing a place for creative exchange and for enhancing the business of the region, as well as a great campus for students and academics to learn and research."
The project is supported by Australian Government funding of $30 million through the Education Investment Fund Regional Priorities Round, NSW Government funding of $25 million, and $40 million invested by the University.
Other Articles from this issue
With more than 30 employees based in Williamtown, Raytheon Australia has played a key role in the local defence industry...
TOTechnology announced that its Konica Minolta multifunction range has won the BLI A3 MFP Line of the Year award
a major economic driver for the Hunter
Duratray International recently participated in the NSW Mining Health, Safety, Environmental and Community Conference, H...