First National Newcastle supports HMRI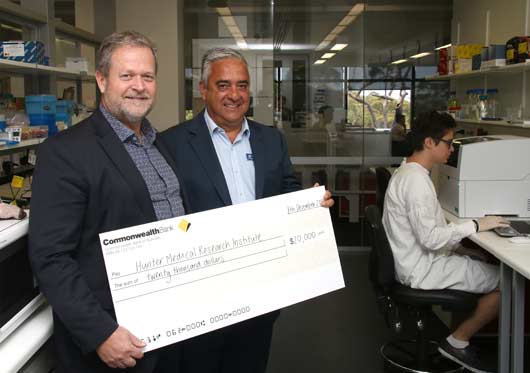 It is the second year running that First National Newcastle City has donated $20,000 to HMRI. Mr Rafty says that, "As a local small business, we are extremely pleased that we can give back to such an important organisation".
Mr Rafty explains why HMRI is so close to his heart, "I have personal reasons for supporting the organisation, with parents on both side of my family having succumbed to cancer and stroke in recent times, it is devastating to watch loved ones fight against a disease that researchers may one day be able to cure".
HMRI is a world-class institute that strives to prevent, treat and defeat a multitude of serious illnesses. HMRI's Director, Professor Nilsson, is an internationally renowned rehab expert and neuroscientist specialising in brain recovery after stroke. Mr Rafty is appreciative of Professor Nilsson's work, "We would like to thank Michael for his continued devotion to improving community wellbeing."
The Spring Fling auction event spanned four weekends in October and 20 beautiful properties were sold. Mr Rafty is appreciative of the Newcastle community, "The amount of money donated could not have been achieved without the incredible support of the sellers and buyers who enlisted their trust in us. We are sincerely grateful to all those involved in the event."
Other Articles from this issue
Your team can either make or break your business.
Fifo Capital Supply Chain Finance is an innovative and complete solution for financing supplier invoices.
Defining the purpose and defining your purpose are crucial to innovation and they are very different principles, yet ve...
The war on drugs has a new focus, highlighted by recent media coverage on the menace of methamphetamines – 'crystal meth...