University of Newcastle students receive Hunter Water Scholarships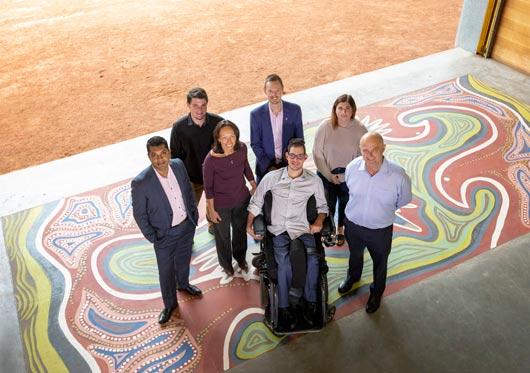 Two University of Newcastle students have been awarded newly established Hunter Water scholarships, which offer financial assistance to help Indigenous students achieve their educational aspirations.
Studying a Bachelor of Commerce, and in his first year, Jack Roberts received the Hunter Water Indigenous Scholarship which offers a total benefit of $22,500 over three years.
Jack said the scholarship would enable him to focus on his studies and his end goal of excelling in the field of business.
"I hope to one day give back to others by speaking at rural schools and explaining that being at a disadvantage doesn't have to be a hindrance, it can be a driver of determination."
University of Newcastle Business student, Tahleigha Compton, was awarded the Hunter Water Indigenous Community Leadership Scholarship. The scholarship offers a benefit of $7,500 each year for up to three years to a student who is committed to making a difference in their community.
Tahleigha said the scholarship has helped her immensely.
"As a fourth year Business student I have spent the last three years with a book, pen and the facilities of the library.
This scholarship has given me the privilege to buy my own laptop, which gives me the opportunity to study and work on assignments from anywhere."
Hunter Water also offers an annual Undergraduate Disability Scholarship, which was awarded to University of Newcastle combined Social Science and Law student, Joseph Popov.
"The Hunter Water Undergraduate Disability Scholarship will allow me to focus my time and efforts on my studies without the stress of covering costs associated with my degree," Joseph said. 
Head of Philanthropic Programs at the University, Mr Brad Holmes said "the generous philanthropic support received from Hunter Water has created scholarships that will change lives, bringing new talent and ideas to our community."
Parliamentary Secretary for the Hunter, Scot MacDonald, said the scholarships mark the start of an ongoing working relationship between Hunter Water and the students.
"I'm really pleased Hunter Water is able to offer this support, not only financially, but also through paid on-the-job training which could potentially open the door to future employment for these scholars."
Hunter Water Managing Director, Jim Bentley, said Hunter Water was proud to play a role in helping these students achieve their educational goals.
"We are continually striving to be a more diverse and inclusive workplace, and we want to do everything we possibly can to assist in providing equal opportunities for all members of our community," said Mr Bentley.
Other Articles from this issue
Airport Ambassadors have celebrated 10 years of giving back to the local community.
Businesses face unique challenges on a variety of issues every day – people, products, systems, competitors – the list i...
Downer has been awarded a four-year contract to become the lead contractor for maintenance services at Origin Energy's E...
In the late 1980's, highly respected Newcastle business stalwart the late Mrs Pat Callaghan (AO) affectionately referred...