Travel packing tips
Jason Duncan
When it comes to travelling be it a short business trip, a weekend away or long overseas holiday we all have the dreaded thought of 'what do I need to pack and how am I going to fit it all in.'
Here are a few tips and essentials when packing for travel:
1. Make a list
I know this one is pretty obvious but it is surprising how many people don't do it or leave packing till the last minute having to run around getting last minute essentials.
Creating a list ensures that you know you have everything you need and it can also make you think of things you may forget if you leave it till the day before you leave.
It is also a good idea to start your packing process a few days or even weeks before your flight. This way you have time to grab anything you are missing.
2. Do I need to check in luggage?
For flights it is always important to review the check in baggage allowance/fees and carry-on luggage rules. These can vary significantly from airline to airline, so it is best to plan ahead rather than potentially run into a problem at check-in or boarding.
If you're only going on a short domestic business trip or a weekend away you may get away with fitting everything you need in your carry-on. Also remember to allow some space for the return journey if you like to make purchases of souvenirs and other items when on vacation. 
3. Keep important items handy
It is important that you keep your important items in your carry-on bag just in case the worst happens and the airline loses your checked baggage. These include your passport, identification, money, credit cards, electronics and other valuables.
It's also a good idea to pack at least one spare set of clothing in your carry-on.
4. Wash your clothes as you travel
A good way to save room and weight in your bag is to plan to do washing while you are travelling. If you are staying in hotels, before leaving on your trip you can check if they have laundry services available and how much they cost.
You can also check if there are laundromats available in the cities you are visiting and plan ahead when you are going to do your washing. If you are staying where there isn't any laundry service or you have to pay an arm and a leg you can always wash your clothes in the sink and hang them up to dry in the bathroom.
5. Power
In this day and age of traveling most people have multiple electronic devices. This is the reason I always travel with a small power board (and appropriate adapter if applicable). This way I am not put out if there is only one power point and I can keep all the electronic devices charging in one place. I usually travel with other people so I don't like to take up multiple power points the others could use.
Another more recent invention is the portable charging pack. This is very handy for when you are travelling around a city far away from your accommodation using your phone as a map, camera or for other information. When flying these must be packed in carry-on luggage and not checked-in luggage.
Other Articles from this issue
Duratray International recently participated in the NSW Mining Health, Safety, Environmental and Community Conference, H...
Which social media tools represent tangible value to your business, and a good use of your team's time?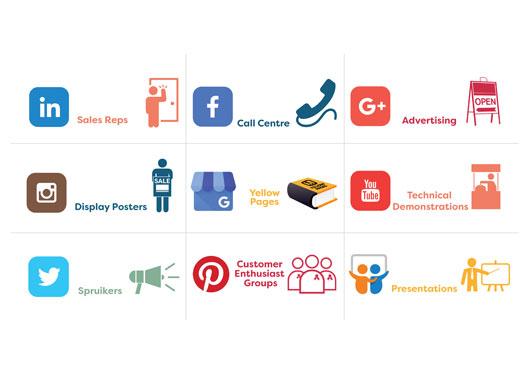 Prosperity Advisers are national finalists in two categories of the 2017 Hillross Financial Services Awards.
Producers and consumers in the Newcastle region and as far away as North West NSW could benefit from the NSW Government ...