Stay on top of home building act
Lou Stojanovski
Keystone Lawyers
Residential builders and contractors are risking prosecution and fines by not staying up to date with requirements under the Home Building Act. There have been recent prosecutions made by the Department of Fair Trading.
Business owners incorrectly assume that because they are doing a "small" job, the Act does not apply. The Act applies to residential building work including: pre-fabricated home additions; general building work; kitchen, bathroom and laundry renovations; structural landscaping; swimming pool building; as well as bricklaying, carpentry, plastering, excavating, fencing, glazing, joinery, metal fabrication, maintenance and cleaning, painting, plumbing, tiling, and waterproofing.
If the job is worth between $5,000 and $20,000 the customer needs to sign a small works contract that sets out basic information including the parties involved, the work to be done and the price. Anyone doing residential building work worth more than $5,000 must be appropriately licenced and those details must be in the contract.
For jobs over $20,000 a major works contract is required. This must also include plans and specifications, statutory warranties, a five-day cooling off period and details of progress payments. The builder must also have insurance under the Home Building Compensation Fund to cover major defects for six years and for all other defects for two years.
In all contracts there are a half a dozen implied statutory warranties. These cover warranty that the work: will be done with due care and skill and in accordance with legislation, plans and timeframes; is fit for purpose and occupation; and has used fit for purpose materials. The same warranties are implied in every contract between a principal contractor and a subcontractor.
Supervisors of contracts need appropriate professional indemnity insurance to protect themselves.
One of the big mistakes I come across is a builder treating two jobs on a site as two contracts. For example, a builder may be called to construct a verandah but the client also asks them to also renovate the bathroom. Under the law that is likely treated as one job and, if it worth more than $20,000 in total, then a major works contract is required with the appropriate insurances and other provisions.
The other key mistake is contractors requesting deposits of more than 10%. This is prohibited. For jobs over $20,000, no deposit can be taken until a certificate of insurance under the Home Building Compensation Fund is issued to the customer.
Other Articles from this issue
Based in Toronto, H2O Innovate is a leading ice and water specialist supplier representing some of the world's leading I...
With a back to the Seventies celebration highlighted by iconic rock band, Dragon, the Master Builders Association held i...
On 7 September , Hedweld celebrated the grand opening of a new manufacturing facility that will help drive innovation an...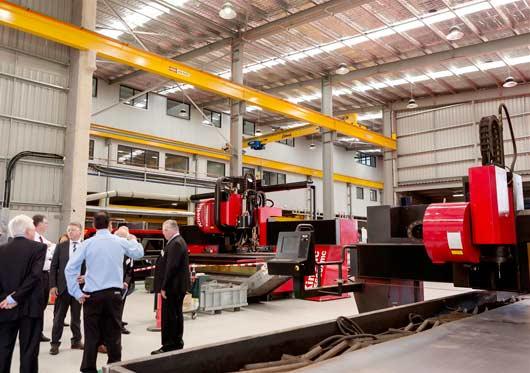 During 2014, we have observed a significant transformation occurring in the Hunter's manufacturing sector.