"STARTUP EXPRESS" MEETS CEBIT AUSTRALIA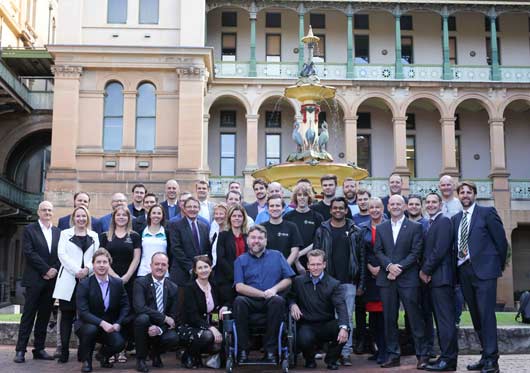 On May 15 the Minister for Trade and Industry Niall Blair and Parliamentary Secretary for the Hunter and Central Coast Scot MacDonald met with 23 startups from the Hunter and Central Coast on board the 'Startup Xpress' bus.
The Startup Xpress travelled to Sydney for CeBIT Australia, the Asia Pacific's biggest technology expo. Startups on the bus included Airsight Australia, who featured at the Hunter Innovation Festival in 2017, Anditi, Camplify, who have recently ventured into the UK, Chezleon, Newie Ventures and Crave New Media.
The Startup Xpress gave leading regional startups a fantastic opportunity to showcase their services to national and international buyers and investors from around the world. CeBIT attracts about 15,000 people.
Eighteen04 and the Business Centre in Newcastle organised the bus trip to give the startups access to expert mentoring, commercialisation support, and exhibiting opportunities at CeBIT.
The startups were also given exclusive entry to an elite pitch night at the Sydney headquarters of Ernst and Young.
TV and radio presenter James O'Loghlin joined the startups on the bus journey to help them develop the perfect pitch before meeting national and international buyers at CeBIT.
James O'Loghlin is no stranger to Newcastle, he is currently Eighteen04's "Expert-in-Residence" and was here several years ago to launch the Rippler Innovation program, a collaboration between The Business Centre and UtopiaX.
The Startup Xpress was made possible by the regional incubator program called Start House, which is being run by the Business Centre in Newcastle with support from Business Connect and the IF Project.
The Start House 100 incubator program, with the help of specialised Business Connect advisors, aims to accelerate development of 100 regional startups over five years and nurture a new generation of women startup founders.
The 23 organisations on the Startup Xpress were been chosen from among hundreds of participants in the regional Incubator program.
Other Articles from this issue
AGL Energy Limited has announced its commitment to build a 252 MW gas-fired electricity generation plant near Newcastle.
Downer has been awarded a four-year contract to become the lead contractor for maintenance services at Origin Energy's E...
Australia's ability to cope with the rising tide in our ageing population remains a hot topic of discussion, with Gover...
After almost 20 years in the same location, AV Chartered Accountants is on the move.