SINGULARITY UNIVERSITY ESTABLISHES LOCAL CHAPTER IN NEWCASTLE
Singularity University (SU), a global community with a mission to educate, inspire, and empower leaders to apply exponential technologies to address humanity's grand challenges, has established a new Chapter in Newcastle. SingularityU Chapters are created in partnership with local program participants and SU alumni, and are located in some of the most innovative and upcoming global technology centres in the world. To date, there are 107 SingularityU Chapters in 57 countries.
"As our regional leadership teams build local communities in support of the development of exponential technologies, the ability for meaningful global and local impact grows," said Dharmishta Rood, Senior Director of Community Leadership.
"Our new chapter in Newcastle marks another milestone in the scale and scope of our Singularity University community."
SingularityU Chapters are central to enabling local regions to jump-start innovation through the curation of events featuring local experts, sponsorship of SU Global Impact Challenges (GICs), and other initiatives at the local level. Since launching the first program in 2015, SingularityU Chapters have hosted a number of unique events focused on applying exponential technologies to create impact. In 2017 SingularityU Chapters launched 320 events, involving more than 25,000 attendees.
SU focuses on positively impacting the world's greatest challenges through the use of exponential technologies - those which are rapidly accelerating and shaping major industries and all aspects of our lives, including artificial intelligence (AI), augmented and virtual reality (AR/VR), data science, digital biology, medicine, nanotech and digital fabrication, networks and computing systems, robotics, and fintech.
"Newcastle is an emerging centre of innovation and the focus of our new chapter will be fostering tech for good within our community," said, Christina Gerakiteys, Chapter leadership team member. "We are launching SingularityU Newcastle Chapter to help expand the reach and impact of technology in our region and will be working with the program participants in Newcastle to build the Chapter's leadership team to partner with local business and academia to host local events.
Newcastle is the first SU chapter in Australia. Christina Gerakiteys, founder of Ideation At Work and Lisa Kernes, CFO Ignite Alliance, both participated in events at SU headquarters in Cupertino, California.
"It's a life changing experience," Chritina said, "Now we have put Australia on the SU map we will share the vision with our local community to embrace Moonshot Goals and to find Massive Transformative Purposes. We will help develop technologies that will have a positive impact on humanity."
"Our country has an abundance of resources and a scarcity of humans," Lisa said, "and we intend on ensuring bigger thinking about the global challenges and how we can 'punch above our weight'"
Other Articles from this issue
Airport Ambassadors have celebrated 10 years of giving back to the local community.
On May 15 the Minister for Trade and Industry Niall Blair and Parliamentary Secretary for the Hunter and Central Coast S...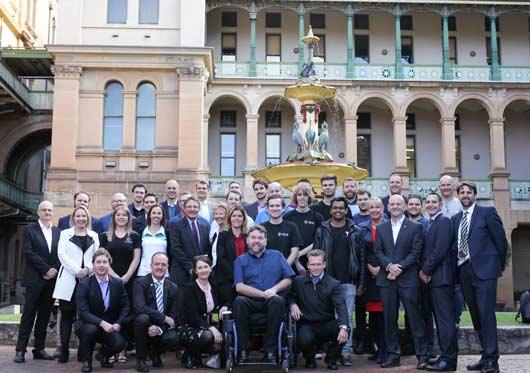 The 2017 NSW Minerals Council Health, Safety, Environment and Community Conference Award Winners were announced on 1...