Scholarships help manufacturing leaders of tomorrow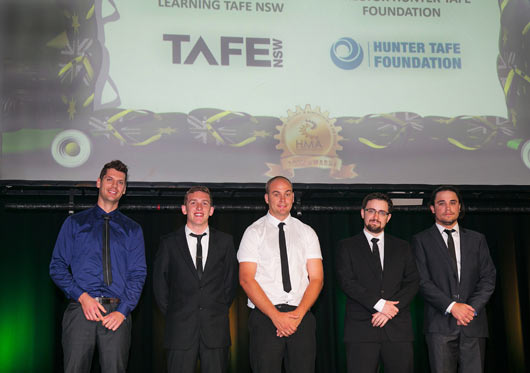 Five
TAFE NSW
students each received a $1000 scholarship at the 2017 Hunter Manufacturing Awards to help them reach their ambitions as future leaders in manufacturing.
The HMA Board TAFE Scholarships are awarded to future stars ofthe industry and provide financial assistance to those who display "distinguished talent and an unwavering determination to succeed".
The 2017 recipients were Michael Cotton, Jordan Evans, Mitchel Schembri, Michael Stothard and Scott Thompson.
Scott Thompson, who is currently studying a Certificate III in Electronics and Communications at TAFE NSW Newcastle, said his fascination with manufacturing started during his automotive apprenticeship at BMW Newcastle, where he was first exposed to advanced motoring technology.
"I remember being completely amazed by the technology used in the performance cars. That was the moment I realised I wanted to work with electronics," Mr Thompson said.
Aside from a keen interest in manufacturing, Mr Thompson is also an avid surfer and during a light-bulb moment, he decided to combine his two hobbies and build his own drone to view the surf from a bird's eye perspective. Mr Thompson said his early days of drone experimentation were far from smooth sailing.
"When I first started to build drones, I had never even seen one in real life. I had many crashes, including an infamous one involving a $1500 drone I built, fully loaded with cameras and equipment that ended up at the bottom of the ocean," Mr Thompson said.
He developed practical skills and knowledge during his TAFE NSW learning experience that helped him refine his drone-building technique. Two of his biggest achievements include building a 3D printer large enough to print full-scale drones, and a robust stunt drone designed for what he called "aggressive flying".
He said the assistance of the scholarship would not only support him financially but also give him a competitive edge in the job market. "The scholarship means the world to me. The money will be a huge help in paying my course fees and it will assist in setting me apart when applying for jobs," Mr Thompson said.
Electronic Trades teacher at TAFE NSW Newcastle, Peter Jansen, said the HMA Board TAFE Scholarship would support Scott in achieving his career goals.
"Scott is highly dedicated to his studies and is always looking to increase his knowledge. The scholarship will assist him to extend his capabilities in electronics and progress in a rewarding career," Mr Jansen said.
Since the first donation in 2009, the HMA Board has provided more than $80,000, with 45 scholarships awarded to TAFE NSW students passionate about their studies and future careers in the manufacturing industry.
Other Articles from this issue
Leah Jay has done the Newcastle region proud in this year's Real Estate Institute Awards for Excellence, bringing home t...
From our humble beginnings in the Waste and Transport Manufacturing Industries in 2004, R&R Murphy Pty Ltd's journey to ...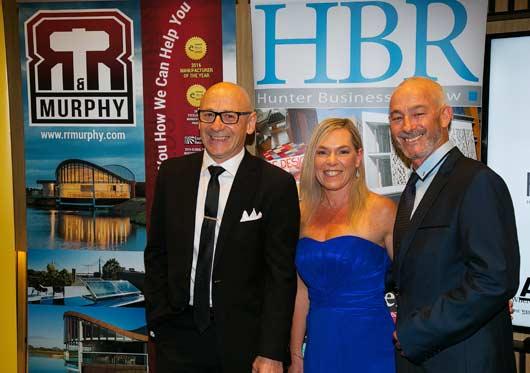 mother + joey began as two mothers, Peta Purcell and Rowena Campbell seeing a future in family fashion, which had purpos...
Hunter businesses have become accustomed to the unfortunate reality of natural disasters — including that they strike wi...