Planning for success as an SME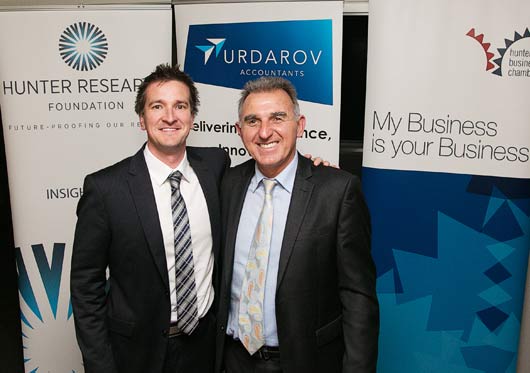 Gavin Murray & Larry Urdarov
For over 15 years, Urdarov Accountants' have been providing clients with Australian Taxation Compliance Services, however there's so much more to running and thriving as an SME than this.
Small to medium sized businesses open and are often set loose to fend for themselves with little to no knowledge or experience in running a company.
To achieve longevity and success SMEs need direction, vision and goals. Whilst the intent of all SMEs is to make a profit, the key to their success is constant communication as well as a detailed plan of action.
In 2014, we merged Urdarov Accountants with Gavin Murray of HUB Wealth Solutions, a modern financial planning firm that specialises in providing Gen X and Gen Y with creative financial advice for every stage of life.
The aim of the merger is to provide SME's with these missing components, through a unique Business Development Program that  is designed to motivatechange and establish developing,  efficient and productive workplaces where employers and employees thrive; it's the complete financial package, from company start-ups, insurance, and income protection through succession planning to exit strategies and retirement/estate planning.
In a nutshell: a plan for success.
The Business Development Program includes an Effective Business Coaching component, through which a client's strengths are identified. Clients receive accurate compliance advice coupled with strategic financial planning to get the complete package.
With guidance coming from both angles (an experienced corporate accountant and an energetic and motivated financial advisor) the client's business plan is set and modelled for a future that is attainable and amazing.
For further information contact Urdarov Accountants 
Gavin Murray commenced his career in the Financial Planning Industry in 2002 and gained valuable corporate experience in Funds Management during an international employment opportunity in the UK. Gavin joined HUB Wealth Solutions in 2014 to create a specialised team able to address and provide services to a variety of financial needs
Grounded in loyalty and driven by a passion, Larry Urdarov has built Urdarov Accountants into a progressive accounting and business services firm serving the entire Hunter Region. As a husband and a father of two daughters, Larry deeply understands the need to plan for a strong financial future.
Other Articles from this issue
Petroleum Exploration Licences (PELs) 2, 4 and 267 have been cancelled following buy-backs from AGL under the NSW Gas Pl...
It can be an arduous task to organise a successful event, particularly if it is large.
Security must always be considered when organising a business event.
The Australian Renewable Energy Agency (ARENA) has announced $11.9 million in funding for Australian biofuel company Eth...