Newcastle children's charity "blown away" by $10,000 donation despite COVID cancellation
Like so many charity events in 2020, Charlie's Run 4 Kids was forced to cancel its major fundraiser, a 5-day run held every September to raise money for John Hunter Children's Hospital's Child Therapy Department and towards a family whose child is undergoing treatment.
It goes without saying, this was a huge disappointment given the event's success since it was established in 2013 by 8 year old Charlotte Carr (Charlie). 
Charlie's mission was to raise money for the paediatric oncology unit at John Hunter Children's Hospital, to make it more kid-friendly. She lost her own battle with neuroblastoma in 2015 but Charlie's determination to help other sick kids lives on through this annual event known as CR4K.
A major feature of CR4K is a $10,000 corporate sponsorship, which funds a play therapist in the Children's Hospital for a year.
Now at least this part of Charlie's mission can be fulfilled for another year.
The team at DFK Crosbie decided their contribution as CR4K's major sponsor was too important to place on hold, despite the event's cancellation.
"We are blown away that although we aren't running this year, our Major Partner Sponsor DFK Crosbie are still donating their $10,000 contribution to the John Hunter Children's Hospital Child Therapy Department, on behalf of Charlie's Run 4 Kids," said CR4K Director Cheyne Waddingham.
"It makes us realise how lucky we are to be part of the Newcastle community. Thank you," said Cheyne.
Partner at DFK Crosbie Derrick Eube said the team of Newcastle-based accountants and business advisers were unanimous in their decision that donating regardless was the only option.
"Of course, we're all hoping the situation with COVID improves and Charlie's Run 4 Kids can get back to normal next year. There's so much uncertainty at the moment for everyone, the business community included," Derrick said.
"But we feel good about the fact the play therapist at the John Hunter Children's Hospital Child Therapy Department can continue putting smiles on young faces."
Other Articles from this issue
A new type of thermal storage material, housed in blocks like LEGO, could see coal-fired power stations converted to ru...
Already described as a 'new landmark of the lower Hunter', The Mutual Bank's new head office at 6 Mitchell Drive, East M...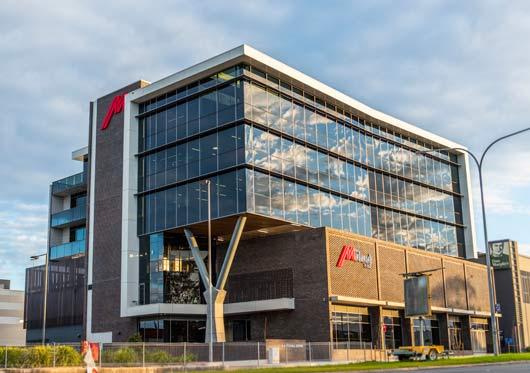 Business is full of risk and opportunity. No doubt you receive robust reporting on all manner of metrics to aide with de...