Hunter Valley Wine Awards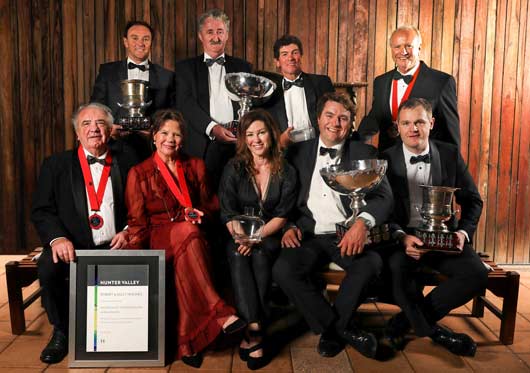 The 12th annual Hunter Valley Legends & Wine Industry Awards were held on 24 May at the newly renovated Ben Ean, Lindeman's Estate. The gala evening paid homage to those who have contributed significantly to the Hunter Valley Wine & Tourism Industries.
The Wine Legend award was presented to Greg Walls, who has been a stalwart of the industry for almost 40 years; taking Hunter Valley wines to every region in Australia by providing a central location for local producers to sell their wines. He did this through his establishment of the Hunter Valley Wine Society in 1975, later evolving the business to Wine Selectors, which now delivers Hunter wines to a nationwide membership of more than 200,000.
This year, for the very first time, the Tourism Legend Award was presented to two icons of the Hunter Valley, Robert and Sally Molines. Robert and Sally have been serving diners in the Hunter Valley for over 45 years, proudly supporting the wine and tourism industries with their culinary expertise and most recently at their one-hatted restaurant Bistro Molines nestled in the vines at Tallavera Grove in Mount View.
Other award winners on the night were:
• Winemaker of the Year - Stuart Hordern, Brokenwood Wines
• Viticulturist of the Year - Neil Stevens, Glen Oak Wines
• Rising Star of the Year - Aaron Mercer, Tamburlaine Wines
• Cellar Door of the Year - Margan Wines
• Hunter Valley Wine Industry 2018 Heritage Award - Drayton's Bellevue Wine Label
Hunter Valley Wine and Tourism Association Vice President, Brian McGuigan congratulated all the winners, noting their contributions to an industry which had reaped international recognition as a premier wine and food destination because of the hard work of its many passionate custodians.
'The Hunter Valley is the oldest and most visited wine region in Australia by overseas tourists and its incredible wines have found their way into the homes of many others, thanks to the hard work and vision of all our winners,' Mr McGuigan said.
Other Articles from this issue
The release of the IMD (International Institute for Management Development) World Competitiveness Yearbook 2018 in May m...
Two young apprentices from the Hunter Region were recognised at the 2018 HVTC Excellence Awards held in Newcastle on 4 M...