Hunter-V-Tec students acknowledged for excellence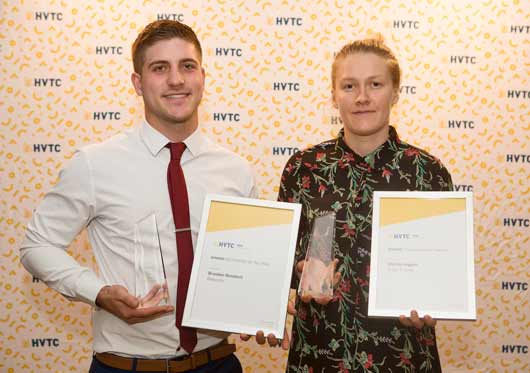 Two young apprentices from the Hunter Region were recognised at the 2018 HVTC Excellence Awards held in Newcastle on 4 May.
The high calibre of their work at registered training organisation (RTO) Hunter-V-Tec in Rutherford saw Shelley Higgins from North Lambton presented with the RTO Achievement Award, and Brandon Bendeich from North Rothbury named RTO Student of the Year.
Employed by group training organisation HVTC Hunter and hosted by Origin Energy, Shelley is currently completing a Certificate III in Electrotechnology – Electrician apprenticeship.
While enrolled in an engineering degree at university and working part time in retail, Shelley decided to apply for a multitrade, pre-apprenticeship course at Hunter-V-Tec. The experience sparked a passion for the electrical trade and cemented the 23 year old's desire to pursue an apprenticeship.
The skills Shelley gained in the pre-apprenticeship program, together with her determination and passion for the trade, saw her successfully gain a sought after electrical apprenticeship with HVTC and host employer Origin Energy.
"I love learning something new every day, and the fact that the work I am doing is relevant and will always be needed. I enjoy knowing how things operate so the hands-on work keeps me motivated," she said.
Brandon is completing a Certificate III in Mobile Plant Technology apprenticeship with Glencore – Ravensworth mine and was acknowledged for his work during the 2017 Work Readiness Program.
The accelerated program provides new apprentices with customised training prior to attending a work site through advanced theoretical and practical skills. 19 year old Brandon was a high achieving student for the duration of this program, producing workmanship above the standard of all other students in his year.
Growing up with a father who worked in the mines, Brandon was keen to follow in his dad's footsteps and begin his own career in mining.
"Throughout school I always had a passion for engines and anything to do with cars. This led me to apply for the mobile plant apprenticeship at Glencore – Ravensworth mine where I've been fortunate enough to learn from a range of highly skilled tradesmen," he said.
Winners in the 13 Excellence Award categories were selected from finalists across HVTC's ten regional branches located throughout New South Wales.
Other Articles from this issue
Singularity University (SU), a global community with a mission to educate, inspire, and empower leaders to apply exponen...
We all love that feeling when we walk into a space and just feel welcome.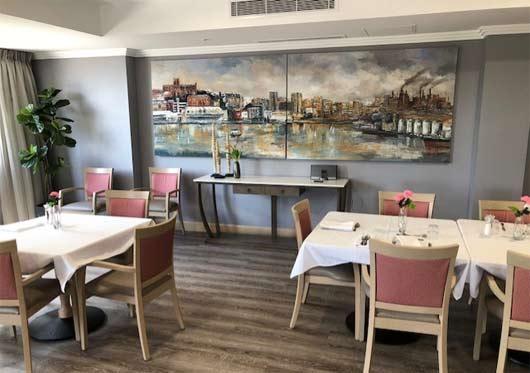 Businesses face unique challenges on a variety of issues every day – people, products, systems, competitors – the list i...
Many of you will have read Jim Collins' book 'Good to Great'. You will recall the "bus analogy" in which Jim argues that...