Apprentice of the Year - Manufacturing - MITCHELL BROWN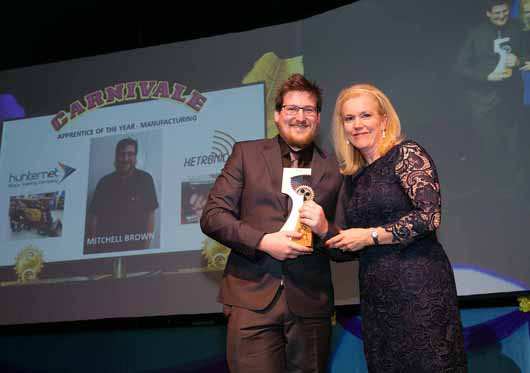 Mitchell Brown - Employed by HunterNet Group Training Company - Hosted by Hetronic
Sponsored by State Training Services
This highly contested award was taken out by Mitchell Brown who is employed by Hunternet Group Training Company and hosted by Hetronic Australia.
The judge said the five finalists all displayed, in various aspects of the assessment process, outstanding attributes and are a credit to themselves and the manufacturing industry they represent.
However Mitchell Brown has shown an understanding of how the apprenticeship model of learning has suited him. The application of work based practice to the theory learnt has enabled him to best utilise his apprenticeship term.
Mitchell's employer HunterNet Group Training Company and Hetronic Australia are glowing in their praise of his workmanship, indicating standards well above his peers and states he is a credit to himself and the industry.
Mitchell's interest in electronics led him to undertake his apprenticeship in Electronics Scanning and Detection which he successfully completed in June 2014. Mitchell is now undertaking his Advanced Diploma in Electrical Engineering and upon completion intends going to university to study Electrical Engineering and proceeding down the career path of Automation.
Highly Commended went to Curt Gibson, from Downer Rail. The judges said "Curt was an outstanding nominee who displays all of the qualities required to successfully complete an apprenticeship and establish a career path in the manufacturing industry."
Other Articles from this issue
Regional Development Australia's 2014 Hunter Innovation Scorecard measures the Hunter region's performance against inter...
It is important for Businesses to remain mindful of the warning signs to reduce their risk of corporate insolvency.