98 year lease of Newcastle Port secured
The NSW Government has announced it will enter into a 98-year lease for the Port of Newcastle for a benefit to the State of $1.75 billion.
Port of Newcastle Investments, equally comprising Hastings Funds Management and China Merchants Group, was the successful bidder for the Port. This followed a competitive transaction process which attracted many Australian and overseas investors.
According to Newcastle Port Corporation the long term lease will free up capital which will go toward the NSW Government funding of the revitalisation of Newcastle's CBD. It will also help fund critical public infrastructure across NSW, including hospitals, schools and roads.
The long-term lease will deliver gross proceeds of $1.75 billion. This result means an extra $1.5 billion will be invested in NSW infrastructure, with 30% to be directed toward projects in rural and regional NSW.
NSW Premier, Mr Mike Baird confirmed $340 million from the proceeds will be used for the revitalisation of Newcastle CBD. This is in addition to the $120 million the Government has already allocated to the project, which includes a new light rail service. The remainder, more than $1.2 billion, is to be invested in the NSW Government's dedicated infrastructure fund, Restart NSW.
Hastings Funds Management and China Merchant are equal partners in Port of Newcastle Investments. Hastings has been involved in many successful government asset transactions, including the Sydney Desalination Plant and Cairns and Mackay Airports. China Merchants has a 140-year history as an owner and operator of ports and transport businesses. It has been operating in the trading and retail sector in Australia for more than 20 years. In 2010, it acquired leading Australian-based container pallet logistics provider, Loscam. The NSW Government will continue to retain regulatory oversight of the Port of Newcastle as well as responsibility for a range of maritime safety and security functions, including emergency response, Harbour Master, Port Safety Operating Licence and pilotage functions. The State will also continue to manage Nobbys Head.
Other Articles from this issue
Small and medium-sized enterprises (SMEs) are the engine room of the Australian economy & are required to operate in tou...
Matt Hall Racing, Airborne, Newcastle Helicopters, Skydive the Beach & a private investor have bought Belmont Airport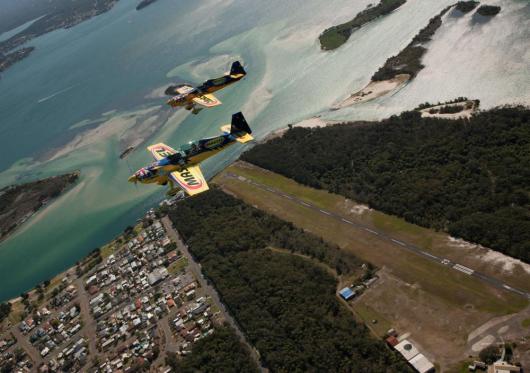 Australia is the lucky country richly endowed with Agricultural and Mineral Resources.We fell off the sheep's back into ...