80th year anniversary unlocks yarns from Newcastle's steelworks past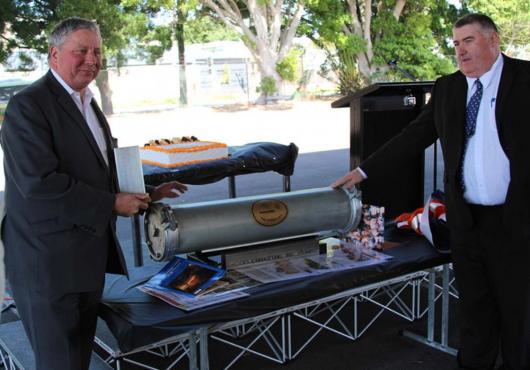 Grabbing piping hot steel tubes off mills with only tongs and gloves, dressed in your best stubbies work shorts was but one of the many old stories re-told by former Austube Mills' employees at the business' 80th anniversary celebrations on 4 September.
The historic tales and times reminisced from the 'good old days' brought more than 100 former employees of the site together with current employees to celebrate the milestone and to discover how much the business has evolved over the decades.
Former employees also spent moments amongst themselves reconnecting with old friends and sharing personal memories; most of them about their time at 'Tubies'. 
Old site photos from the early 40s and 50s and behind the scenes footage of the mills featuring many of the former workers, bought back many memories for the old team mates, who sometimes spent up to 50 hours per week together on the mills.
Austube Mills General Manager Richard Clement said the developments and attitudes towards safety and operations were the two main areas where significant changes were discussed amongst the guests.
"Many of the former employees were relaying stories that left our present employees shocked at how steel manufacturing used to operate," Richard said.
"It was only 25 years ago that hot steel tubes were pulled off the mills by operators with nothing but a pair of gloves to protect themselves, actions that no one blinked at back then but actions that would shut down production if they occurred today.
"Safety is now one of our business core values and the procedures, checklists and training we all undertake every day, are major investments the business annually commits to to ensure our people, our products and our customers are protected.
"For those guys, who worked together for 20 to 30 years on average, it wasn't just a job back then, it was their whole lives, and we are pleased we could honour all their hard work via the installation of the commemorative time capsule. The capsule will provide future generations with an opportunity to hear and re-tell the stories of the steelworks and the people that helped build this City" Richard said.
"Eighty years is a milestone in anyone's eyes, however 80 years in the now tough conditions of the Australian steel manufacturing industry is an achievement worthy of celebration, and now we'll strive to make it to 100."
At the same event held onsite at Mayfield, Newcastle Deputy Lord Mayor Brad Luke also accepted a time capsule gift to the City of Newcastle and a piece of DuraGal steel product memorabilia for the Newcastle Museum's steelworks collection in recognition of the business' long-standing steelworks heritage.
Councillor Luke, a former employee of Austube Mills himself (then Tubemakers of Australia), was pleased to return to the site and learn more about its achievements since he left.
"On behalf of the people of Newcastle, I am delighted to be here to accept the gift for the city of the time capsule by Austube Mills," Cr Luke said.
"Here in this time capsule are the countless memories, joys and dramas of so many people who have helped build this company over 80 years, and who have built our city.
"It is also a tribute to the achievements of Newcastle's steelworks industry and I thank the manufacturing workers of our past, present, future and congratulations to Austube Mills."
Contact HBR (02) 49257760 or email info@HBRmag.com.au for editorial and advertising opportunities
Other Articles from this issue
Many business owners are faced with tough decisions about future planning for their business, such as what they should i...
At the Lower Hunter Urban Design Awards held on the 5 September at Tempus Two wineries, local architect, Chris McBriarty...
Are you maximising your business' profit potential? Here are some common ways businesses miss out — and how to fix them.
If your business has vehicles you'll know that the purchase and ongoing maintenance of your fleet can be a costly, time ...