Bengalla Warbirds Over Scone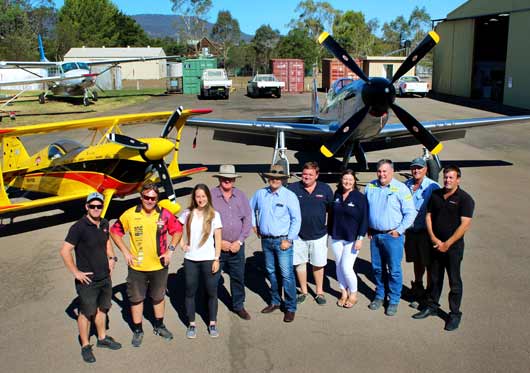 Upper Hunter Shire Council is pleased to announce that Bengalla Mining Company's Community Development Fund is supporting the 2018 Warbirds Over Scone event through a $50,000 sponsorship. 
Bengalla Warbirds Over Scone is being staged by Upper Hunter Shire Council in conjunction with Vintage Fighter Restorations, Scone Aero Club, Pay's Air Service and Paul Bennet Airshows.
Mayor Wayne Bedggood thanked Bengalla Mining Company and said their Community Fund sponsorship was a significant contribution to the organisation of an event that will build the Upper Hunter visitor economy.
"Bengalla Warbirds Over Scone will be a huge event for the region with a budget of nearly $200,000 but it is an investment worth making," he said.
"A crowd of over 8,000 people is expected, and aside from entry fees covering the event costs, that should bring over $1 million in economic benefits to the region. We are hopeful of attracting visitors from across Australia who will not just attend this stunning aviation display in Scone, but enjoy a number of attractions in the region over the weekend.
"Local businesses and community organisations are being encouraged to hold complimentary events on the Saturday and Friday nights, for the aviation enthusiasts who will be flocking to town. 
"In addition to the tourist dollars that the event will bring to the local economy, profits from the day will support the planned major redevelopment of Scone Airport and design and construction of the Warbirds Aviation Centre," Cr Bedggood said.
CEO of Bengalla Mining Company, Cam Halfpenny said "Bengalla has welcomed the opportunity to partner with Warbirds Over Scone to showcase the region to the wider community attracting visitors to our area."
"Building robust relationships and contributing to the long-term sustainability and strong economies of our local communities is important to Bengalla.
"The recent establishment of the Bengalla Community Development Fund has allowed us to provide additional support to the Scone community and we are excited to be involved with the Bengalla Warbirds over Scone. We look forward to seeing first hand the vintage aircraft at the show and wish Council every success for the event," Mr Halfpenny said. 
Don't miss out on 'early bird' tickets to Bengalla Warbirds Over Scone, a full day of family fun on Sunday 25 March 2018 at Scone Airport. Buy tickets at www.warbirdsoverscone.com.au or from the Scone Visitor Information and Horse Centre, before 23 February 2018 and pay only $25 for adults, $20 for pension card holder, $10 for children aged 5 to 14 years and $100 for VIP tickets (prices will rise after 23 February).
Scone's Vintage Fighter Restorations (VFR) will once again send its impressive array of warbirds soaring over Scone among other iconic fighters, trainers and bombers from across Australia. 
Managing Director of VFR and Pay's Air Service, Ross Pay said "Our ongoing efforts to gather a first-rate collection of display aircraft for the event has already attracted many of the most impressive and admired warbirds in existence. 
"This growing group has some exciting prospects waiting in the sidelines but so far offers the likes of the Hawker Hurricane, Focke-Wulf 190, two P-51 Mustangs, P-40 Kittyhawk, TBM Grumman Avenger, T-28 Trojan, L-39 Albatros jet, CAC Wirraway and more!
"The support of Bengalla will undoubtedly help us make this the best airshow the area has seen," Mr Pay said.
 The show will also include world renowned aerobatic flying and formation displays, skydiving, amusement rides for kids, food stalls, military aviation memorabilia, merchandise and adventure flights all weekend.
Display Co-ordinator and pilot, Paul Bennet said "Warbirds Over Scone was a successful series of airshows held in 1998, 2001 and 2003 and originally organised by the late Colin Pay of Pay's Air Service - and Ross' father. He was a pioneer in the Australian warbird movement and Col's efforts played an irrefutable role in inspiring the country's love and passion for the vintage military aircraft we see today. 
"It is an honour to be a part of continuation of his legacy and continue to inspire the younger generations into the world of warbirds and aviation," Mr Bennet said.
"Partnering with Bengalla gives a greater opportunity to develop the Warbirds Aviation Centre to further share the aircraft and their history with the Upper Hunter Valley community."
Community Sponsorship packages are now available for local businesses wishing to be involved and those interested should contact jsinclair@upperhunter.nsw.gov.au  Community sponsorship packages range from $500 up to $1500 per business and include branding benefits in the official program, online and at the event.
Bengalla Warbirds Over Scone is also supported by NBN Television and Power FM who will broadcast live from the event.
Other Articles from this issue
A successful office design layout is one which attracts, retains and engages workers, promotes the brand and culture, ...
Australia's largest day spa network is expanding in the Hunter with the region's third spa to open in Maitland. endota G...
As we race towards what is known as The Singularity and we make exponential leaps in medical research, there is an execu...
Many small businesses start with a great idea and nothing to lose. But as they find success and grow, scale can be both ...