Work to start on the University of Newcastle's new home for innovation and creative endeavour
Artists impression of external building
On 21 February Taylor Martin MLC joined University of Newcastle Vice Chancellor, Professor Alex Zelinsky, AO, to announce construction is set to begin on the first building within the University's Honeysuckle City Campus.
The construction contract for the $25 million project has been awarded to Hansen Yuncken who will bring to life the University's latest development. The building will house the region's new Integrated Innovation Network (I2N) Hub and additional facilities for the expanding School of Creative Industries. 
Mr Martin said the NSW Government was committed to boosting the Hunter region's digital research and technology capabilities through targeted infrastructure investment, as demonstrated by the $4.8 million Restart NSW contribution to the I2N Hub as part of the Hunter Infrastructure and Investment Fund.
"Newcastle and the Hunter region have a highly skilled workforce which supports a diverse range of industries. We are committed to growing that," Mr Martin said.
"The I2N Hub at Honeysuckle is an investment in the future of Newcastle as a city increasingly known for digital research and innovation. This Innovation Hub is going to boost business opportunities, and job growth for the region.
"By partnering with a leading educational provider like the University of Newcastle, this region can continue to attract strong business investment and innovative people," he said.
Hansen Yuncken, who have been awarded the building contract, have a strong reputation in delivering dynamic construction projects in the Hunter Region. 
Their successful delivery of the University of Newcastle's iconic NUspace building testifies to their ability to make this first building at the University's Honeysuckle City Campus something special.
Professor Zelinsky thanked Mr Martin for the NSW Government's investment, and for their partnership with the University and City of Newcastle to bring this next phase of the Hunter Innovation Project to life.
"The co-location of the Innovation Hub with the School of Creative Industries on our Honeysuckle City Campus will be dedicated space for students, academics, researchers and entrepreneurs to work alongside industry, technical specialists, business advisors and investors," Professor Zelinsky said.
"The University of Newcastle wants the whole community – our students, neighbours and regions to take advantage of the opportunities this building will present," he said.
The first building in the new Honeysuckle Precinct of the University's City Campus is due to be complete in mid-2021.
Other Articles from this issue
On Wednesday 12th February, Regional Development Australia (RDA) Hunter and NSW Minerals Council (NSWMC) launched their ...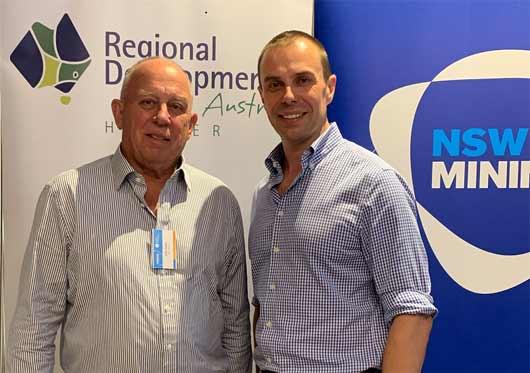 The 2020 March issue of the Hunter Business Review can be viewed in hard copy or online. This issue featured the Leader...
Chair of the locally based Hunter United Employees' Credit Union, Jann Gardner, says its members and the broader commu...