The girls win 5th Annual 'Food Fight'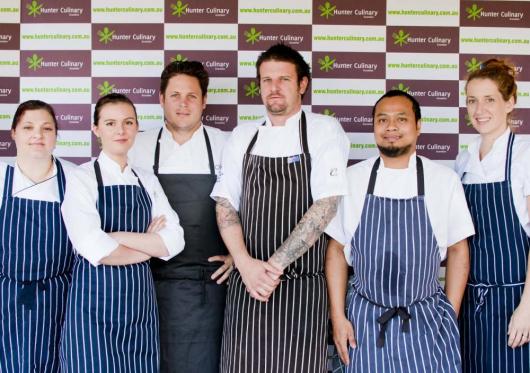 On 2 June Hunter Culinary Association hosted a "Battle of the Sexes" where the knives came out with a team of three of very highly regarded female chefs took on a team of very highly regarded male chefs at the 5th Annual Hunter Culinary Association's 'Food Fight'.
An expectant crowd of more than 250 guests enjoyed six dishes matched with six Hunter wines, it was a tight competition the entire day with the girls nudging ahead in the final round to take out the win.
While the invited guests enjoyed canapés produced by the Hunter region's talented apprentices, who also benefited professionally by working alongside the competing teams, things were hotting up in the kitchen. Guest chef, Carla Jones (4Fourteen, Surry Hills), Sophie Hedges (221 Restaurant & Bar at The Royal Oak Hotel) and Rebecca Kaye (Tuscany Estate) were getting ready to do battle with guest chef, James Viles (Biota Dining, Bowral), Emerson Rodriguez (Emerson's Cafe & Restaurant) and Michael Robinson (Margan). Celebrity chefs Matt Kemp and Colin Fassnidge tag-teamed with running commentary during the event, Matt (MC for the day) on stage out the front, Colin in the kitchen with the contestants.
HCA were extremely happy with the result of the 5th Annual 'Food Fight' to further build the awareness of Hunter Region as culinary destination and the ongoing support given by so many in the industry.
HCA anticipate that the event will continue to grow in popularity and will be looking to further develop the concept next year.
Other Articles from this issue
Several years ago, a company I was advising faced a broken recruitment process.
The achievements of past and present students were highlighted when Hunter TAFE presented awards on 30 May
The investment of $5 million means the Hunter Train carriages will under go a major refresh
Many Australian retailers in the Hunter region are in for a bumpy ride in 2018 – and the franchise sector, in particular...