Technology experts, investors and community leaders to support local tech startup ecosystem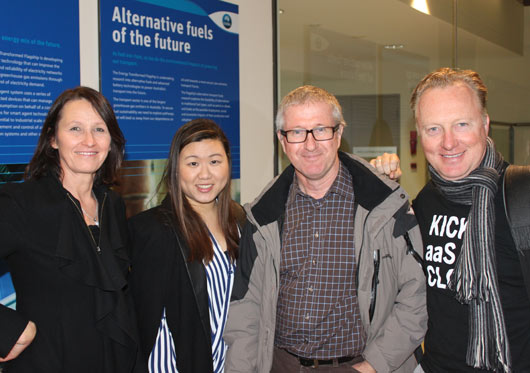 #NEWSTARTUP workshop
Key industry and community enablers have articulated a vision and plan for Newcastle and the broader region, to become a global leader in technology industries, supported by the local tech start-up ecosystem, known as #Newystartups.
A meeting held on Saturday June 13 agreed actions to establish the local tech startup ecosystem to connect, enable and inspire local start-ups. #NewyStartups is a platform for all entrepreneurs, investors, industry representatives, tertiary institutions and government to build regional capacity allowing for new scaleable tech products to reach the market as quickly as possible.
The group, co-convened by Dr Andrew Mears and Mr James Giblin, has also recently initiated the cleantech and "Smart Cities" focused co-working space Eighteen04 (theeighteen04.com) for #Newystartups. "Smart Cities is about enabling data to inform, guide and revitalise the way urban systems add to human development and includes energy, transport, health, access to markets, public services, and governance," Dr Andrew Mears said. "It's imperative that we build on this region's strengths in innovation to realise our share of this new economy."
The meeting agreed on the following actions:
Connect – through improved communications and proactive promotion of local accelerators, incubators, meetups and other tech events.
Enable – through the establishment of a register of mentors; active social media promotion (twitter) of startup ecosystem activities; creation of a shared pool of data on startups, metrics and local economic impacts; mobilise resources to address gaps in investor networks; establish a curated tech startup co-working space with good access to infrastructure (especially broadband)
Inspire – actively celebrate success of local startups in our personal networks and through our organisations; recognise local technology heroes and identify role models through local startup events.
The enabler group included:
Abby Clifton (Leadagility), Alec Roberts (CLEANaS), Andrew Mears (SwitchDin), Chris Nottle (PwC), Chris Reeve, Dan Farthing (Newy Startups), Gordon Whitehead (Lunatiks), Grant Sefton, Gunilla Burrowes, James Giblin (AEC), Jason Murphy, Justine Ulph (The Victory Collective), Larry Platt, LeeAnne Marsh, Lisa Wu, Martin McKenzie, Mathew Harland (Hunter Young Professionals), Rhett Morson (DaVinci Capital), William Gill, Sean Marshal, Sean McCracken, Steph Hinds (Growthwise), Stephen Young (FactNexus), Stuart Anderson (Sydney Capital Partners), William Gill.
This event was facilitated by Dr Andrew Mears, Mr James Giblin, and Dr Gunilla Burrowes of Eighteen04 with special guest Pete Cooper from StartSoc.
Other Articles from this issue
With the Hunter region's population set to increase to one million by 2050, Hunter Water have announced that over the ne...
For over 15 years, Urdarov Accountants' have been providing clients with Australian Taxation Compliance Services, howeve...
Newcastle Airport has been shortlisted for funding by the Restart NSW Regional Tourism Infrastructure Program. The NSW g...
Enviropacific has acquired CI Agent Solutions Australia Pacific.