Skate bowl for South Newcastle Bathers Way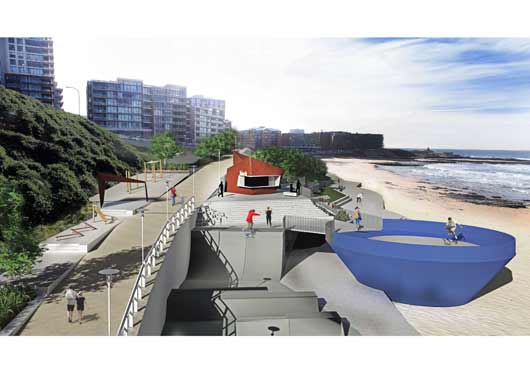 Newcastle City Council is planning a new lease of life for South Newcastle Beach with a uniquely designed skate bowl, kiosk and outdoor gym featuring in the next stage of the Bathers Way project.
Concept plans for stage one of the Newcastle Beach project, stretching from Newcastle Surf Club to King Edward Park, reveal the signature widened pathway, an iconic skate bowl jutting out into the sand and a street-style skate park that skaters can "drop into" from the shared pathway.
Art installations among stylish landscaping, tiered seating and shade shelters similar to those along the Merewether-Bar Beach section of Bathers Way have also been proposed ahead of final design.
"It is exciting that we are realising our goal of connecting Nobbys to Merewether with a coastal pathway to rival any in Australia," Lord Mayor Nuatali Nelmes said. 
"This is an ambitious concept to activate a long-dormant part of the coast at South Newcastle by proposing a competition-standard skate bowl as well as street-style skate facilities, and making public domain improvements that will beautify and activate the previously ungainly site between the ocean and the cliff.
"Inclusion of a new kiosk, fitness and parkour equipment, and areas to stop and enjoy the view means that the South Newcastle stretch of the Bathers Way will offer something for everyone.
"Bathers Way is already gaining a reputation as a must see destination for visitors to Newcastle and the region, allowing them to take in the beautiful sites along our coastline and enjoy the safety, amenity and buzz the shared pathway provides.
"Judging by early successes, the Bathers Way could rival Sydney's Bondi to Bronte Walk and Victoria's Great Ocean Road on the bucket list of great Australian coastal attractions."
Other Articles from this issue
Roberts Legal, Local Boutique Commercial Litigation firm have been announced as finalists in the 16th Annual Lawyers Wee...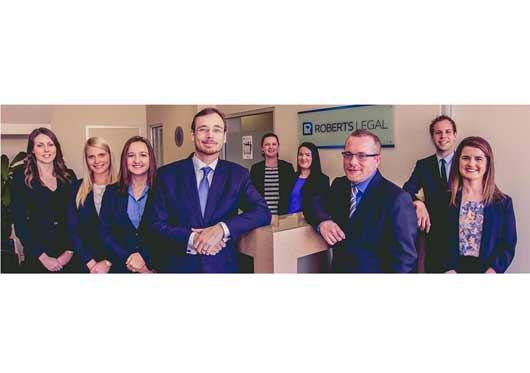 This statement has to be one of my favourites. I have had people say this to me at least a dozen times over the course o...
Lake Macquarie City Council's Manager Integrated Planning, Sharon Pope, has received a prestigious award at the 2017 Pla...