Scholarship launches maritime career for first female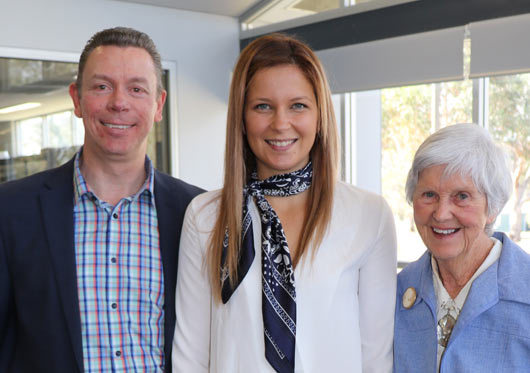 Alida's employer Darren Carey, Alida van Driel and scholarship donor Annette Lynch
Medowie local, Alida van Driel will set sail on a career in the maritime industry after being awarded the
Hunter TAFE Foundation's
2017 Barker Maritime Scholarship. Ms van Driel was one of 14 students awarded scholarships by the Hunter TAFE Foundation that recognise outstanding students studying in a range of skills areas including fashion, Aboriginal cultural arts, nursing, early childhood and hospitality.
Ms van Driel works as a general purpose hand for Newcastle Ferries and was one of the first two females to work for the organisation. The scholarship will cover the cost of the TAFE NSW Certificate III in Maritime Operations (Master up to 24 metres near coastal) and will support Ms van Driel's dream to be the first female harbour master of the Port of Newcastle.
Ms van Driel said the assistance of the Hunter TAFE Foundation scholarship, sponsored by the late Don Barker and his wife Annette Lynch, will help her fast-track her career.
"Without the scholarship, it would have been years before I could think about further study," said Ms van Driel.
"When I achieve a Certificate III, I will be able to take on more responsibilities and gain more confidence on the water. This means I will have a more promising career available to me." TAFE NSW Head Teacher of Maritime Studies, Glenn Hunter, said
Alida's determination and skill set would take her a long way in a traditionally male-dominated industry.
"I have been sailing for 30 years and in that time, I've worked with less than five women. Alida has wonderful potential and this training will give her the practical industry skills she needs to work either domestically or internationally in the maritime industry," said Mr Hunter.
Other Articles from this issue
The University of Newcastle (UON) has released a new program of half-day workshops aimed at budding entrepreneurs and co...
I attended Sydney Indesign, a two-day event across four districts with 50 exhibitors and 300+ brands which was an invalu...
With the current Global business environment and potential competitors worldwide, every business action needs to have sp...