Renewal and economic remodelling top Newcastle City Council list for 18/19
Newcastle City Council will begin building or complete a range of exciting infrastructure projects as part of a record $100 million capital works program to boost local economies and promote recreation over the next 12 months.
Among the big projects are:
• Redevelopment of South Newcastle Beach with a skate bowlplaza combo, new kiosk and exercise park
• Completion of the adventure playground in Blackbutt's Richley Reserve
• Construction of a skate plaza and playground on Stockton Foreshore
• Local centre overhauls in Carrington and Beresfield
• Upgrade of the grandstand at Mitchell Park, Merewether; and
• Public domain overhauls in the city's east and west ends
As well as renewing infrastructure and cooperating with the NSW Government on city-changing revitalisation projects, Council is "dreaming big" when it comes to the regional economy.
The transformation into a smart, liveable and sustainable global city will gain speed under the 2018/19 financial year budget adopted by Council late last month.
The budget includes $8.2 million to help reboot the economy under Newcastle's Smart City Program, $7.9 million on construction of a solar farm at the Summerhill Waste Management Centre and $2.6 million to increase cycling links around the city.
"The next 12 months is going to be an exciting period when people start to see what it truly means to be a smart city," Lord Mayor Nuatali Nelmes said.
"Extensive sensor networks, smart poles, public WiFi, electric vehicle charging stations and smart parking initiatives are all set to become a reality over the 2018/19 financial year."
As part of the record $100m capital works program, next year's budget includes $13 million to renew buildings, structures and places such as parks (with off-leash areas for dogs and outdoor fitness stations) and cultural facilities.
Also in Council's infrastructure budget is $23.5 million for roads, including a $9 million civil works program to upgrade local bridges, and $8.1 million for the existing storm water network.
"Around $2 million will also be invested in lifting the Tyrrell Street Bridge at Wallsend," Councillor Nelmes added. "It will be the first of three that will be raised to address flooding in the Wallsend CBD."
Council CEO Jeremy Bath said the budget had also made provision to raise Council's productivity.
"It includes $7.5 million to relocate Council's administrative staff to Newcastle West to help us better service rate payers in one consolidated building, instead of the four we work from now.
"Planning on the layout of the new building in Stewart Avenue is now underway with consideration of how we can best meet the needs of a rapidly growing city."
Other Articles from this issue
Facilitated by Regional Development Australia (RDA) Hunter, 200 Hunter high school students recently visited the Hunter'...
The Hunter Medical Research Institute (HMRI) has long specialised in stroke research, and a new philanthropic donation w...
In June, Iris Capital unveiled plans for the second stage of the much anticipated EastEnd development. The development i...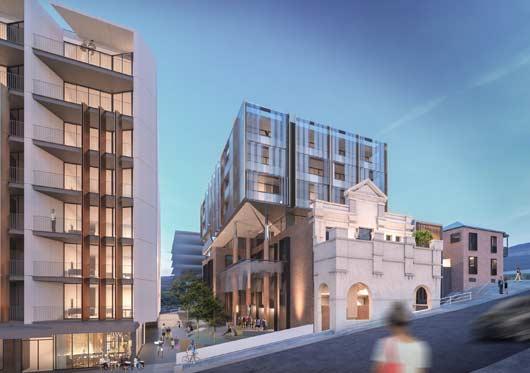 Well known civic leader Mr John McNaughton AM has been awarded the title of Emeritus Lord Mayor by the NSW Government fo...