NSW Mining Industry & Suppliers Awards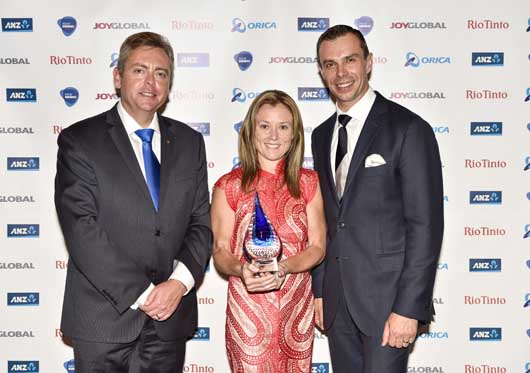 The NSW Mining Industry & Suppliers Awards dinner was held at Parliament House on 20 November, with Hunter-based companies again taking out prizes.
Premier Mike Baird delivered a welcome address to attendees, vowing that his Government will do more to support the 40,000 hardworking miners and their families in NSW.
Minister for Energy and Resources Anthony Roberts delivered the dinner keynote address, registering the NSW Government's appreciation for the hard work of the state's miners, and acknowledging the essential service being provided by the NSW mining industry during tough times.
The third annual NSW Mining Suppliers Awards, presented by Minister Roberts, recognised excellence and innovation in companies and individuals across five categories:
• Small Business Achievement - Novecom Pty Ltd
• Outstanding Supplier - Quarry Mining
• Mining Operation of the Year - Glencore Bulga Underground Operation
• Young Achiever - Richard Gelson, Production Manager, Springvale Colliery, Centennial Coal
• Outstanding Contribution to Mining - Ian Cribb, Chief Operating Officer, Glencore
The Awards form part of the 2014 NSW Mining Industry & Suppliers Conference, being held at NSW Parliament House, bringing together industry professionals, CEOs, service providers and government representatives.
The Conference follows the release of new economic data showing that 22 major NSW mining companies are spending a total of $13.6 billion annually on goods, services, community contributions and wages across the state.
"Mining in NSW cannot happen without the 8,200 businesses that supply the minerals industry – from legal and accounting services, to equipment and machinery manufacturers, labour hire, transport, engineering and construction," NSW Minerals Council CEO Stephen Galilee said today.
"These partnerships are integral to the success of our industry and the economic contribution that our industry is able to make to the state's economy."
"These businesses have demonstrated the value that they provide to our mining operations and I congratulate them.
Major suppliers like Quarry Mining and small businesses like Novecom are great examples of mining supplier businesses making an important contribution to our industry and our state," Mr Galilee said.
Other Articles from this issue
HVTC has proven itself a national leader in workforce training with its apprentices and trainees gaining major accolades...
Hunter Water Corporation (Hunter Water) has agreed to sell its fully owned subsidiary Hunter Water Australia Pty Limited...
Many women find themselves at one time or other trying to be superwoman, after all you have to be if you are going to ha...
Whether it's more food and wine experiences, family attractions, business events or better infrastructure, residents and...