NSW Government and Newcastle Airport to kick start Astra Aerolab commercial precinct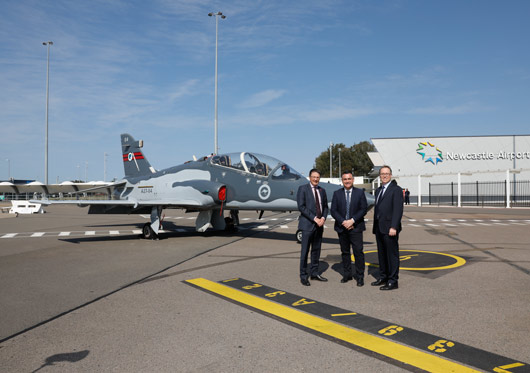 Scot MacDonald, John Barilaro & Peter Cock
On 12 September NSW Deputy Premier, John Barilaro MP, announced $11.7 million in funding to create a world-leading aerospace commercial precinct adjacent to Newcastle Airport.
Through the Growing Local Economies Program, the grant will provide the foundation for Newcastle Airport to kick off the development of Astra Aerolab, a nationally significant precinct for defence, aerospace and advanced manufacturing related research, manufacturing and businesses set to generate over 5,500 jobs in the Hunter region.
Making the announcement at Newcastle Airport, Mr Barilaro said this is an exciting announcement in one of the state's most exciting industries and regions.
"This investment will capitalise on the existing economic strengths of the region, securing 76 hectares of special land committed to defence and aviation-related industry and employment. The new Astra Aerolab will house maintenance and support services for Australian fighter jets and drive $246 million into the NSW economy," Mr Barilaro added.
Located adjacent to the Airport, Astra Aerolab is a unique development with direct airside access from some lots. It will provide a world-leading innovation hub for defence and aerospace, as well as non-aviation related industries such as advanced manufacturing, technology, education, mining and operations.
Port Stephens Council and Newcastle City Council, joint shareholders of Newcastle Airport, will contribute $7.86m to co-fund the $19.66m project to activate the lead-in road from Williamtown Drive and site preparation for four development areas comprising 7.4 hectares.  
Newcastle Airport CEO, Dr Peter Cock said, "We appreciate the on-going support of the NSW Government and applaud its vision to ensure that NSW has the vital infrastructure to support and accelerate economic growth. The funding allows us to kick start the development that will grow the region's profile, create jobs, drive trade and business, and enhance education and community outcomes."
The Airport is already home to tenants including BAE Systems and Jetstar. Astra Aerolab provides further opportunities for businesses supporting the sustainment of the new F35 Joint Strike Fighter jets as well as other aviation and aerospace activities, and will provide the ability locally to sustain other platforms.
"We are very proud to be working with the NSW Government on Astra Aerolab. As a community-owned asset, Newcastle Airport takes its role in generating economic and social outcomes seriously. We want to create a precinct that fuels pride as well as growth – a place where people and businesses want to work. In the Hunter, Astra Aerolab, adjacent to Newcastle Airport, RAAF Base Williamtown, and coupled with our unbeatable lifestyle will do just that."

Astra Aerolab will feature:
46 hectares of developable land, up to 73 lots
B7 – Business Park zoning
DA for subdivision approved and activated
Adjoining Newcastle Airport and RAAF Base Williamtown
Direct airside access for selected lots
Leading opportunities for advanced manufacturing, defence and education
Outstanding onsite lifestyle will include cafes, parks and cycleways
Best of the Hunter region – affordable living, quality education, beaches, vineyards and more
For more information, including video, visit astraaerolab.com.au
Other Articles from this issue
In March this year, Ampcontrol launched a new product for their customers in the hard rock market called the Rockstarter...
Lake Macquarie City Council's approval of an $8 million asphalt plant in Teralba has paved the way for soft plastics an...
After only two short years in business, Infinity Financial Advisors recently combined forces with Allegiance Financial P...
Many small businesses start with a great idea and nothing to lose. But as they find success and grow, scale can be both ...