New direct flights between Canberra and Newcastle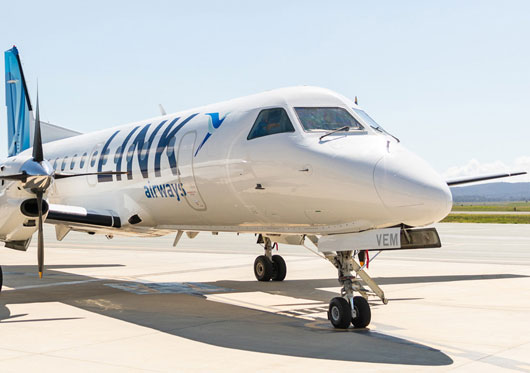 Newcastle Airport is excited to announce a new direct service between Canberra and Newcastle, commencing 20 November.
The service will be operated by Canberra based airline Link Airways who will fly 34-seater Saab 340B Plus aircraft with a flight time of just 60-minutes to the ACT.
The service will commence with four return services per week, initially with the aim of building the schedule to 11 return services per week in 2021.
Newcastle Airport CEO Dr Peter Cock says the service will offer the region greater choice and flexibility on a route which supports vital government, defence and business connections.
"At a time when we can see some hope on the horizon for the aviation industry, this is great news for both regions," he said. 
"Our Airport is surrounded by the largest regional economy in the country with a catchment that has a high propensity to travel. The ACT is also on a strong growth trajectory, so it's not surprising that we now have two airlines servicing this route as we do to other major capitals."
"We look forward to working with Link Airways and all of our partner airlines to re-build connections between our region and the rest of the country in the coming weeks and months."
CEO of Link Airways Andrew Major said the airline is very proud to be able to offer these new services which will greatly enhance connectivity between Canberra and Newcastle.
"We receive numerous approaches from parties that travel regularly between Canberra and Newcastle seeking additional capacity and a larger range of fares on the route. The Saab 340B Plus aircraft with full inflight cabin service will significantly enhance the offering".
Link Airways standard inflight offering includes hot and cold beverages and premium snacks with complimentary beer/wine available on all afternoon and evening services. All-inclusive Deal fares are available now for $149 one-way and can be booked through linkairways.com or via on-line and shop front travel agents.
The schedule allows for weekend stays in addition to the opportunity to spend a full business day at their destination and return home that same afternoon.
Other Articles from this issue
Environment Minister Matt Kean MP joined Port Stephens Mayor Ryan Palmer on 25 September to officially open the Port Ste...
The newest Display Home Village in the Hunter is open at Huntlee. COVID meant plans for Huntlee's second Display Villag...
On 13 October Energy Renaissance, Australia's first lithium-ion battery manufacturer, announced that it will build Renai...
If you were to do any research on insurance, you would soon see that having 'adequate' insurance cover is a common topic...