Maria Charlton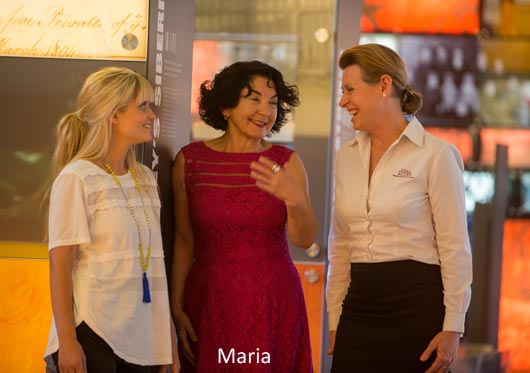 As an owner operator of a successful marketing company for more than 25 years Maria Charlton has been at the forefront of some significant changes, and although there's still work to do, she hopes Newcastle's future is one that embraces business diversity, and leaves the dirtiness behind for good.
Maria launched MAP Marketing in 1989, she is a Fellow and Certified Practicing Marketer with the Australian Marketing Institute (AMI) and holds a Bachelor of Commerce and Masters in Business Administration. MAP's focus is on business to business marketing and business research. Maria is a true innovator, when she opened the doors to MAP she was the only marketer operating in the area. She was the first Hunter marketer to be accredited as a Certified Practising Marketer with the Australian Marketing Institute and is a fellow of the institute. She says that the role of a marketer is often misunderstood and she would like to see increased awareness of marketing and a more direct path towards the study of the discipline. "Marketing is a broad discipline that encompasses many areas, true marketing is all embracing, and while selling is a subset of marketing, that's not actually what marketing is all about" she says.
Networking is essential to the role of the marketer and at the time that Maria was starting out the club to belong to was the Newcastle Business Men's club. One evening Maria's accountant Brian Nash suggested she come along as his guest. "For two years I was Brian's guest, and was often the only woman in attendance, says Maria, finally, I was accepted as a member." Maria was welcomed to the club as their first female member in January 1991 and the Club changed their name to "Newcastle Business Club Inc" a year later.
Maria's passion for Newcastle and the city's future is boundless and she would like to see government led structural change actioned. She believes Newcastle is not valued by government and the perception that Newcastle is a dirty city, unfortunately is not just a perception. "Dirty industries should not be allowed near the port.
Why put a garbage dump in the mouth of our beautiful harbour?" What Maria would like to see is accountability from governments, and rather than Newcastle accepting dirty industries, government departments moving their headquarters here. "I would like politicians to be held accountable in terms, how many projects they were involved in that have a huge employment multiplier, what they add to infrastructure & access, how many new government and major corporate relocations they brought to the region, and quantified improvement in aesthetics and diversity of the business and resident experience." Maria also says she'd like governments to explain to the residents why west and south west of Sydney is deemed more desirable for investment than the Hunter.
When Maria's not championing the cause of Newcastle or studying, or working, she can be found with her family, or salsa dancing, or visiting volcanoes. "I love volcanoes; I think they're so dynamic.
I'm attracted to their sheer power and passion." She's stood at the very top of a volcano in Vanuatu and says the experience was phenomenal. Next year she plans to visit more volcanoes on a trip to Hawaii. "I love volcanoes, says Maria, but not as much as I love my daughter and two grandsons."
Other Articles from this issue
The announcement of the Australia-China free trade agreement in November provided some positive news for Australian coal...
Have you returned to work feeling refreshed and energised about what you can achieve this year?
Many women find themselves at one time or other trying to be superwoman, after all you have to be if you are going to ha...
Newcastle real estate agent Mark Kentwell has been busy brushing up on his Korean and other languages as he heads to the...