Major award for NovaCare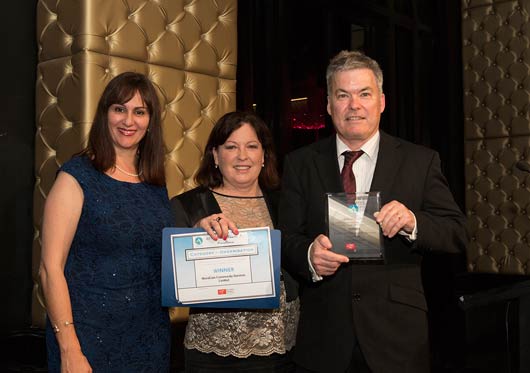 NovaCare has been recognised for its unique leadership, innovation and excellence by Aged and Community Services, NSW/ACT. In a gala presentation in Sydney, NovaCare was named winner in the Organisation category for 2016.
"We were founded by the community, for the community some 25 years ago," says proud CEO, Joseph McCarthy, "armed with a can do attitude and a determination to help older Novocastrians to continue living their lives their own way, in their own home.
He said, "NovaCare is an agile organisation that uses our skills, talents and resources to support older Australians and their carers. We have been very innovative in transferring initiatives including the Arts Health Institute's Sing Out Loud Together and Music & Memory programs along with the creative FiSH philosophy into a community setting"
Sing Out Loud Together brings some of the oldest and youngest in the community together in song. Year 6 students from local schools buddy up with elders to meet, sing and learn with each other. Music & Memory also harnesses the power of music to improve psychological wellbeing with the use of iPods.
One daughter said, "My father who is 88 has rekindled a love of music, singing, playing instruments… and feeling good about himself."
NovaCare has also been a key collaborator with the Council of the Aged and Community West in a wellness and enablement project and undertakes research with the University of Newcastle.
Mr McCarthy said the whole team strive to be 'super supporters'. "While other organisations provide support services for people living at home, NovaCare goes further. We work together with you to think outside the square and make things happen that surprise, delight and help you live your way."
Other Articles from this issue
Hunter based firm, Prosperity Advisers, is proud to announce they are a finalist in the Xerocon 2016 South Awards having...
A leading Hunter real estate business has developed an innovative service built around the policy recommendations from r...
The West End of Newcastle continues to attract attention with over 200 people attending the Property Council's August Hu...
Mid-tier accounting firm Bentleys Newcastle has announced its expansion via the merger with local firm, McCoskers Partne...