Let's talk with Pierre Malou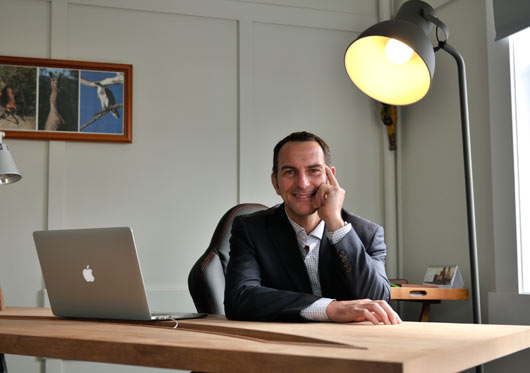 Pierre Malou. Photo By Perry Duffin
1. In a few words tell us about your current role.
Since early 2017, I have been working with a bunch of incredible people at
The Business Centre
. Officially my title is Chief Executive Officer but I feel more like a conductor of a Chamber Orchestra: a small, skilled and powerful ensemble of talents and experience.
Each day, women and men contact The Business Centre with brilliant ideas and innovative concepts. Our role is to guide them whilst they establish their business models and develop strategic partnerships. We do so by offering mentoring, advisory services, accredited courses and peer to peer learning environments.
2. How have you reached this point in your professional life?
Upon my arrival in Australia in 2000, I became fascinated by the entrepreneurship mentality, the 'give-it-a-go' attitude and the resilience of the Australian business community. When I started my career in Europe in the mid 90s and then moved to Asia, I was cocooned by the large corporations for which I worked at the time. Like most of my peers who graduated from Business School, the career path was almost set in stone from day one.
Once in Australia, I realised I was ready to run my own business and join forces with other entrepreneurial people, especially scientists or engineers keen to bring ground-breaking solutions to market.
I went to Business School because I wanted to run a business. In hindsight, I was really naive at the time, as I thought I would climb the corporate ladder and run a corporation. I had no idea how difficult it is to run a business, especially a start-up. The last 15 years, I have learnt so much about what works or does not. Today I am sharing this experience with other entrepreneurs.
3. When you're not at work, where can we find you?
When away from work, well, you won't be able to find me… I live remotely, off-grid, without mobile phone coverage on 200 acres not far from Wollombi. My passion and interests are centred around sustainability and fitting in with our amazing country:
"I love a sunburt country,
A land of sweeping plains,
Of ragged mountain ranges,
Of droughts and flooding rains."
Trying to live sustainably and being a respectful custodian of the land on which I live is what I do outside work. As you would imagine, this encompasses: growing vegetables, looking after animals, managing the woodlands and preparing my place for future (warmer) droughts and (heavier) rains.
4. Where do you find inspiration?
Every budding entrepreneur coming to The Business Centre is a source of inspiration. I am constantly reminded of the extraordinary diversity around us. People from all walks of life, aspiring to do good and bringing to market new ideas, contact us for advice. Humbly, we try to help them.
My passion for innovation and entrepreneurship is constantly renewed by new collaborations and business opportunities.
5. What advice would you give to someone just starting out in your field?
Starting and running a business is a journey. Nothing happens overnight. Preparing a roadmap and finding the right information is essential. The temptation to do everything by oneself and not looking for support is natural. However, my advice is to meet with peers, learn from others who have been there and share the journey.
6. What's something most people don't know about you?
Although I'm quite short, especially if compared to other athletes, I played basketball at high level. Most recently, I have developed an obsession for cricket even though I had never been exposed to it prior to migrating to Australia. The combination of advanced statistics and on-field tactics – if not sometime sledging - fascinate me.
7. How would you like to see the Hunter evolve over the next decade?
This is one of the things I am most passionate about: the Hunter region's future. And I'd like to include here the Upper and Lower Hunter as well as the whole Eastern seaboard corridor north of Sydney – from Gosford to Port Macquarie. Our region is innovative and dynamic. There are a lot of opportunities to collaborate with other entrepreneurs, researchers, social enterprises, and young people to design a smarter region.
We need to get ready for an ever-changing world and offer to the next generations a liveable and harmonious place. The Hunter is well placed to find the balance between great quality of life, a smart regional capital, higher education, innovation, investment and jobs creation.
8. What's your favourite Hunter restaurant/café/bar?
Circa 1876 in Pokolbin.
9. Are you reading anything at the moment?
Homo Deus by Yuval Noah Harari. A great sequel to his previous and acclaimed book: Sapiens.
10. Do you have a favourite sport or team?
San Antonio Spurs in the NBA where Patty Mills plays. Patty is the first Torres Strait Islander and Aboriginal player in the NBA.
A fantastic player but also an inspirational leader for young Australians.
11. What's the best line from a film you've ever heard?
"Jusqu'ici tout va bien" i.e. So Far, So Good in La Haine a French movie about three young friends and their struggle to live in the outer suburbs of Paris, in the mid 90s.
The story took place just before radical Islamism brainwashed a few France-born men who were in fact third generation of migrants. The French society and the government turned a blind eye on their struggle – so far, so good – and eventually let extremists take control of disillusioned youth instead of creating successful pathways for these young people to study and work.
For me it's a constant reminder that many people or companies have a vested interest in maintaining the status quo and if we, citizens and entrepreneurs, do not implement change and create new pathways to success, then very little will change. So far, so good is almost an admission of failure.
Other Articles from this issue
It's a commonly held view that industrial and commercial property is the domain of older, wealthier investors.
mother + joey began as two mothers, Peta Purcell and Rowena Campbell seeing a future in family fashion, which had purpos...
Beep Bicycle Bells is a small, independent accessory company proudly based in Newcastle.