Let's talk with Bevan Ramsden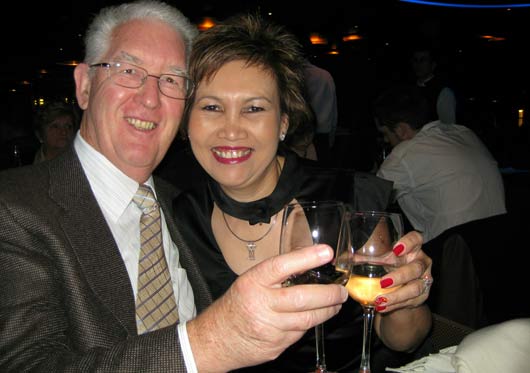 Celebrating 10yrs Bevan & Marie
Something very important happened the moment Bevan Ramsden started his first job at the Post Master General's Department. In communications, mail and telegraph came first and the revolution of the telephone later on. Suddenly the world became connected. As Bevan observed this transformation a lifelong career and love affair began.
Bevan completed his Electrical Engineering Degree, and moved his way up through the ranks from young cadet to Lines & Cables Engineer working on the Sydney - Melbourne Coaxial Cable Project and later on as a Transmission Engineer. In 1966, in search of a more meaningful purpose and challenge Bevan got a leave of absence from Telecom and joined Australia Volunteers Abroad and took a posting as a Telecommunications Technical Assistant in Zambia, Africa. Resource rich Zambia desperately needed the installation of communication systems but working in a department that was still coming off the back of a colonial administrative system was something Bevan was unprepared for. It was an experience he says that "changed the direction of my life and significantly shaped who I would become and my outlook on life". On his return to Australia, the Vietnam War had taken hold and many of its young men via conscription. Bevan was appalled at the impact of this war on the people of Vietnam unwilling to allow any part of his income tax to contribute to "the immoral war" he resigned from Telecom to work as a full time volunteer organiser in the anti-war movement until he was down to his last twenty cents.
In 1972 the Whitlam government came to power and there was a strong focus on developing the country and on post high school education. This appealed to Bevan and he decided to return to study. He completed a Diploma of Teaching and secured a role within TAFE, teaching Telecommunications at the Collingwood, Preston and Footscray TAFE Campuses. Bevan taught in Melbourne for ten years before heading to a warmer climate in Newcastle, now his home city, with his family. After a further ten year stint with Hunter TAFE he and a colleague decided to start a private training organisation delivering Telecommunications Training.
During this time and in light of industry deregulation, Bevan focused on expanding nationwide. It meant that Bevan was on the road or on planes a lot of the time while at the same time raising two little girls. Marie, his constant rock and energetic partner in life, had the key role of managing home life and was on her own much of the time.
"It was a busy time with a young family with me always on the move," Bevan says in reflection "but little did we know we had even busier, more stressful and rollercoaster-like times ahead."
In 2003, with five team members including the husband and wife team, the doors of the newly established Ramsden Telecommunications Training were flung open. Based at the University of Newcastle, they built their business on two core principals 'Quality' and Bevan Ramsden's excellent reputation. "Starting our own business allowed me greater flexibility to deliver what I believed to be the best makeup for each qualification in a fresh new way. I sought to create an interactive learning environment.
I subscribe to the belief; What I hear I forget, What I see I remember, What I do I understand. So it was vital to have appropriate practical exercises and other "doing" activities."
Within the first year of establishing Ramsden all involved were to take pay cuts, the going got tough and there were decisive moments when Marie and Bevan wondered whether they should keep pushing through. "Bevan has always been a reputable man in the industry with so much to give." Marie his wife says with great pride. "So even in those very financially and physically draining early days, I knew we just needed to keep going." However in the year following the establishment of Ramsden (and they still remember the time with excitement), The Skilled Group and Telstra came on board. Ramsden became a company who could pride itself on building strong relationships with both individual clients and leading companies.
When you meet Marie and Bevan now you would never know the hard times they faced but what doesn't escape you is their underlying determination and commitment.
They are hardworking characters, who have contributed to the growth of this country. Due to their vision and founding principles, thousands upon thousands of Australians have received training, both theory and practical, which is needed to set-up and maintain Telecommunications services across Australia.
There is a big smile and a chuckle from Bevan in response to the suggestion that 'thousands' of students annually is quite an impressive achievement, given that the same man who created such a reputable company was once a young man of the 60's trying to pay his way each day.
As most people who know Bevan have come to expect, well-considered replies are delivered quietly and concisely with gentle modesty. "It may have been many years since I was a young Engineer of the 60's cruising around in my Kombi, first discovering the exciting industry of Telecommunications, but let me tell you that new developments still float my boat just as much. I'm sure not many people will understand my overextending infatuation for optical fibre, but what I do know is that my passion for my industry and teaching it to others stimulates enjoyment and learning. And that makes me happy."
Other Articles from this issue
Actevate and the Small Animal Specialist Hospital (SASH) joined forces recently when manual handling issues emerged with...
When clients come to us, they may not necessarily understand precisely what they want to achieve financially.
A group of talented local students has been presented with awards and scholarships, providing much needed support and en...
Anglican Care is significantly increasing its services to seniors in the Hunter with the opening of a new facility in To...