Laureate Professor Graeme Jameson joins global list of most outstanding scientists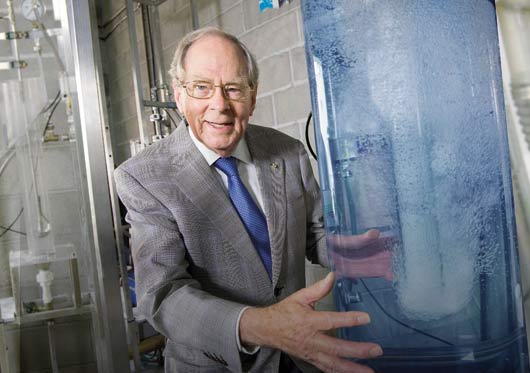 University of Newcastle chemical engineer Laureate Professor Graeme Jameson AO has been honoured by one of the most prestigious organisations in the world – the Royal Society, which boasts a fellowship of 1,650 of the world's most eminent scientists.
Laureate Professor Jameson AO was named a Fellow of the Royal Society, a rare and distinguished honour decided by a peerreview process based on excellence in science.
The oldest scientific academy in continuous existence has recognised Laureate Professor Jameson for his work on fluid and particle mechanics, and especially the flotation process for recovering valuable minerals.
The Director of the University's Centre for Multiphase Processes is renowned for his invention of the Jameson Cell, a revolutionary mineral processing technology installed around the world. Well over 300 Jameson Cells are now in operation across 25 countries, with the invention estimated to have earned nearly $40 billion for the Australian export industry.
The technology has been widely used to remove fine coal from waste streams, and is also used to recover metals such as copper, gold and lithium; to remove suspended solids from dairy in ice cream factories, at breweries, chicken factories and wineries; as well as to treat industrial effluents and remove hydraulic oil from cooling water streams.
Laureate Professor Jameson, who joined the University of Newcastle 40 years ago as the Professor of Chemical Engineering, said election as a Fellow to the Royal Society was a very prestigious accolade for working scientists.
"This is a great honour for me, the Faculty of Engineering and Built Environment, and the University of Newcastle. I never imagined that I would become a Fellow, and I'm still rather dazed about it," he said.
"I am very grateful to be included among a list of distinguished scientists and engineers who have been recognised by the Royal Society," he said.
Other Articles from this issue
On 8 may the Business Centre, together with Regional Development Australia (RDA) Hunter's ME Program and the Departmen...
Another HIF over and still going strong. With most events at close to 100% capacity, we can declare that innovation is a...
Airport Ambassadors have celebrated 10 years of giving back to the local community.
It's a commonly held view that industrial and commercial property is the domain of older, wealthier investors.