Joint winners share major Hunter Business Award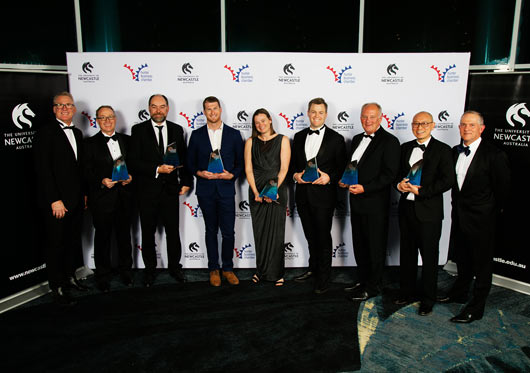 AJM Photography
Newcastle Airport CEO Peter Cock and Lake Macquarie City Council CEO Morven Cameron were declared joint winners of the Business Leader of the Year Award at the Hunter Business Awards at NEX in Newcastle on 23 August. 
Awards were presented in 17 categories before nearly 600 people at a gala event sponsored by the University of Newcastle.
It was a big night for Newcastle Airport, which also took home the President's Award, the major award for individuals, companies or organisations that have added a special value to business efforts in the Hunter region.
The Kristen Keegan Young Business Executive Award was won by Martin Corrigan, an operations superintendent at Port Waratah Coal Services. Young Entrepreneur of the Year was Jade Chislett, whose company Just Like You Dolls creates custom-made dolls for children with disabilities who wear medical devices.
Out of the Square Media won the Contribution to the Region Award, in recognition of the self-funded 'passion projects' it has created to promote the Hunter, such as its Region Ready and Feel Inspired video productions. 
Chamber CEO Bob Hawes congratulated all winners, saying the record number of entries this year had produced a high-calibre field of finalists.
"Our annual awards night shows the great strength and diversity of business and industry across the region, from start ups and micro businesses to major organisations across a range of sectors," he said.
"The joint winners of our Business Leader of the Year Award are a perfect illustration of that diversity.
"Although Peter and Morven come from very different sectors serving substantially different markets, they both bring strong personal attributes to their roles that have significantly influenced the direction and corporate culture of their organisations."
Chamber President Hennie du Plooy said he chose the airport as the winner of the President's Award because of the contribution it is making to the current and future prosperity of the region.
"The Airport has developed concentrated strategies to build new domestic and international markets, increase visitation, expand the facility and further the region's position as an aerospace hub. These initiatives have significant implications for the growth of tourism and trade, research and education, investment attraction and the development of new industries and jobs of the future," Mr du Plooy said.
"In addition, the Airport is a good corporate citizen, as demonstrated by its support of the Committee for the Hunter and many community and business events."
The full list of winners is as follows:
·         Business Leader of the Year (sponsored by CPA): Peter Cock, Newcastle Airport and Morven Cameron, Lake Macquarie City Council
·         President's Award (sponsor: Sparke Helmore): Newcastle Airport
·         Kristen Keegan Young Business Executive (18-30) (sponsor: Quarry Mining): Martin Corrigan, PWCS
·         Outstanding Young Entrepreneur (18-30): Jade Chislett, Just Like You Dolls
·         Contribution to the Region (sponsor: Port Authority of NSW): Out of the Square Media
·         Outstanding Employer of Choice (sponsor: NCIG): Westpac Rescue Helicopter Service
·         Excellence in Micro Business (sponsor: Glencore): Tighes Hill Cellars
·         Excellence in Small Business (sponsor: Newcastle Herald): Funda
·         Excellence in Business (sponsor: NSW Minerals Council): ATUNE Health Centres
·         Excellence in Social Enterprise (sponsor: Compass Housing): ProCare
·         Highly Commended (Social Enterprise): Allambi Care
·         Excellence in Innovation (sponsor: Pitcher Partners): Ampcontrol
·         Excellence in Export (sponsor: Port of Newcastle) : Whiteley Corporation
·         Excellence in Sustainability (sponsor: Umwelt): Downer EDI Works
·         Start Up Superstar (sponsor: AICD): Hunter Allied Care
·         Local Chamber of Commerce (sponsor: Service NSW): Tomaree Business Chamber
·         Excellence in Retail & Hospitality: Crowne Plaza Hunter Valley
·         Love Water, Love Business (Hunter Water): Morisset Hospital
Do you have an exciting new business ready to hatch? Council is seeking expressions of interest (EOI) to occupy The Hatc...
Inner-city businesses are set for a much-needed weekend boost thanks to a move by Newcastle City Council and Newcastle N...
In a win for the Hunter's commercial and defence aerospace sector, RDA Hunter has enabled Aeroskills to be studied by se...
Rethink Financial Group (Rethink)'s third annual Property Activity Intentions Report has highlighted the popularity of N...