How you can help your employees 'Recover at Work' and more effectively manage Workers Compensation
Trina Moyes
Recovre
Why is this important?
Employers who work collaboratively with an injured worker and their insurance company and will be able to influence the worker's recovery. Early Intervention has been proven effective in fostering a happy and healthy workplace and promotes a workplace that is supportive and committed to the health and wellbeing of its workers. Not only does research show that Early Intervention in this area can significantly reduce the severity of work injuries but also is key to reduce the cost and duration of workers compensation claims, by as much as 25%. The earlier an injury is treated and managed, the sooner the worker will recover from the injury. This means less downtime and lost productivity, as well as a saving in claims costs (and therefore lower premiums) for employers. For every $1 spent in Early Intervention strategies cost savings may be as much as $2.30 ROI. For the majority of soft tissue work related injuries, time away from the work place may not the best way to help workers recover, instead of 'returning workers to work', it would appear the best place to recover is now staying to 'Recover at Work'.
What the Employer can do:
• Focus on good safety management practices and preventative programs in the work place. Establish yearly safety targets and work consistently towards improving safety performance. Ensure the implementation of a Return to Work Program, so that policies and procedures are in place before an injury happens
• When a worker is injured, assist them as soon as possible. Show care, support and commitment to assisting them recover at work. Help them to the doctor where required, to get the best assessment and advice possible. The sooner you obtain an opinion the quicker treatment and recovery can begin. Ensure the doctor clarifies the diagnosis and sets a timeframe for the workers expected recovery. This will go a long way to reassuring your worker to feel optimistic about a speedy recovery
• Notify the insurance company within 48 hours of a significant injury occurring (i.e. an injury that prevents a worker from doing their usual job continuously for seven or more calendar days). Cooperate and participate with the insurance company who will develop an injury management plan for the injured worker.
• Remind all key stakeholders of their responsibilities and accountabilities as documented in the Return to Work Program and communicate clear support for 'recover at work' policies for all your staff at every opportunity. Remember to communicate to your workers ongoing how your business is committed to support any injured workers in your work placebut more importantly show them by your action as every other worker will be watching how well you mange an injured worker in the work place, this will determine your safety culture.
• Communication is key. Educate and mentor supervisors in the importance of their role in return to work - the supervisor's response to workplace injuries influences the quality and speed of the workers recovery and may be the single most important influence in whether a worker returns to work
• Ask your insurer to send you a scorecard of how well you are managing your safety and work compensation compared to your peers.
• Develop tools to prepare you for assisting your workers to Recover at Work before the injury occurs;
i. Develop and document your 'Recover at Work' policy
ii. Establish a good network of support personnel; local doctors that can be accessed quickly when your workers need attention (specialising in occupational injuries), physiotherapists and rehabilitation providers to help you when things get complicated
iii. Develop lists of available suitable duties for each work department, so you are not caught on the back foot
iv. Increase levels of communication – regular and ongoing meetings between supervisors and injured workers to review your workers progress, develop a cooperative approach to planning any workplace adjustments as well as at or after doctors reviews; discuss workers current capacity, any medical restrictions, what treatment has been recommended and how this treatment will improve the workers recovery, and set timeframes and expectations for full recovery
• Don't forget this can be a complicated area, so ask for help if you think things are going 'pear- shaped'. Even with the best laid plans complex issues and barriers to recovery at work can arise along the way - It happens - so seek assistance from a Recovery Specialist sooner rather than later, so these issues can be addressed and recovery can get back on track.
Other Articles from this issue
Newcastle City Council has agreed to create a university scholarship for local women.
Local car dealership Kloster BMW has teamed up with Merewether Carlton Rugby Club for the next two seasons as its major ...
This issue marks the 10th Anniversary for the Hunter Business Review.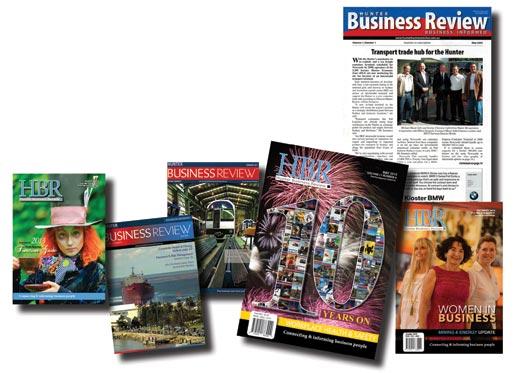 The arrival of the first two Fifth Generation F-35A aircraft to the Royal Australian Airforce, Williamtown marks a majo...