Homelessness doesn't discriminate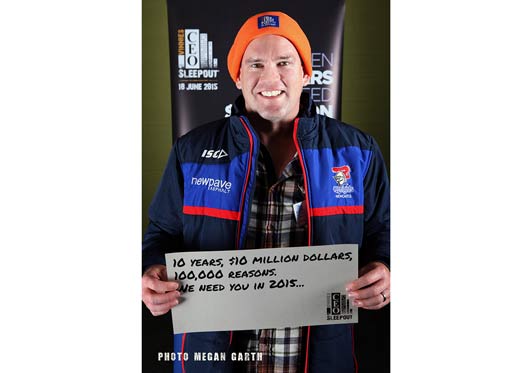 Matt Gidley
105,237 homeless every night! 60% are under 35; 44% are women and 13% are children under 12. How could this ever be considered acceptable in a nation as prosperous as Australia – one of the wealthiest per capita in the world? But these are not just statistics. Each number represents a person, a family, a story of a fellow Australian who is experiencing the extreme isolation, desperation, and soul-destroying hopelessness that engulfs their lives when homelessness becomes their daily reality. We must not forget them.
Each night in Australia, thousands of people stay in crisis accommodation facilities run by community organisations like the St Vincent de Paul Society. Each night, thousands more are turned away, back out into the night - cold, hungry, vulnerable and alone, because of the lack of facilities and resources.
In 2006 one man decided enough was enough. Bernard Fehon, MD of Tactical Solutions, partnered with Vinnies and other fellow business associates, volunteers and his family, to inaugurate the first CEO Sleepout. The passion of one man determined to make a difference, has grown into one of the largest fundraising events in Australia. 2016 will be the 11th year nationally and the 4th for the Newcastle event, with 13 sites being hosted across the country. It is our collective responsibility to bring change.
So far CEO's and business leaders across the nation have raised in excess of $25 million, with Newcastle participants contributing more than $300,000 to this total. Behind every dollar is the potential to not only provide crucial assistance to people experiencing homelessness but to make inroads to address its very causes, with the aim of breaking the cycle of homelessness permanently for as many people as possible. The reality is that as we head into the 2016 event, whilst we should celebrate all that we have achieved together, we must also remember that so much more still needs to be done.
YOU can be a part of this momentum for social change. Join Greg Piper, MP; Sharon Claydon MP; the executive team from Svitzer Australia; Jane Curtis, Director, Century 21; Chris Hicks, CEO, The Forum; David Bliss of SDA Union Newcastle; and Larry Altavilla, CEO, Ettalong Beach Resort, alongside other passionate members of our community, by registering online as an individual or a corporate team at
www.ceosleepout.org.au
to raise funds and sleepout on 23 June at the Newcastle site.
For more information please call Michelle Kot or Toni Johnson on (02) 4967 6277
Other Articles from this issue
Business and consumer confidence in the economy, both in the short and long-term, rose in the December 2015 quarter, pro...
Unless the business is "prepared" for a sale, including having transparent profitable financial data, then often all the...
Celebrity chef and nutritionist Zoe Bingley-Pullin has partnered with Balance Health Club to launch Newcastle's first sp...