Digital internship program
We've all seen it. Someone secures an internship, turns up and there's a mad scramble around the office to 'delegate some work to the student'. It all feels like a bit of an afterthought. The Chimpternship - a digital internship program - aims to change all that.
The Chimpternship is a structured digital publishing internship that enables participants to hone their writing, editorial, research, eCommerce, digital and Search Engine Optimisation (SEO) skills. Gorilla 360 Founding Director, Scott Evans, said that it was important to the Gorilla 360 team to provide a valuable experience that would touch on a comprehensive range of industry-relevant skills.
"We view internships as an important part of giving back and developing our industry, and that's why we've invested a great deal of time in creating a detailed Chimpternship program designed to help create work-ready junior gorillas," Scott said.
"There are very few skills-based internships in the digital space and plenty of companies that just 'go through the motions' with interns, which is why we were determined to create a structured and mutually-beneficial program that's almost like a mini course. Coffee runs and filing don't feature in the Chimpternship."
Melissa Newphry is a recent Chimpternship graduate and says that is was hands down the best intern experience she's ever had.
"It's not often in an internship that you feel valued for your time and energy, but these guys know what it's like to be juggling work and study so they make the entire process as valuable and flexible as possible," Melissa said.
"You learn so much in such a short space of time and because of everything I've learnt at Gorilla 360 I feel confident that I can walk into a marketing or communication job with genuine industryrelevant experience and skills behind me. The team are awesome and so friendly, they make you feel like a part of the family."
If students would like to apply for a Chimpternship the Gorilla 360 team suggest that a traditional resume is not going to propel them to the front of the queue.
"We're in a creative space, so we're looking for interns who can demonstrate their ability to be innovative and engaging in their approach," Scott concluded.
Other Articles from this issue
It may feel like we have just passed the year's half way mark but I'm sure end of year event plans have already started ...
Recently, Newcastle hosted the 9th International Conference on Environmental Catalysis from 11 – 13 July 2016. The confe...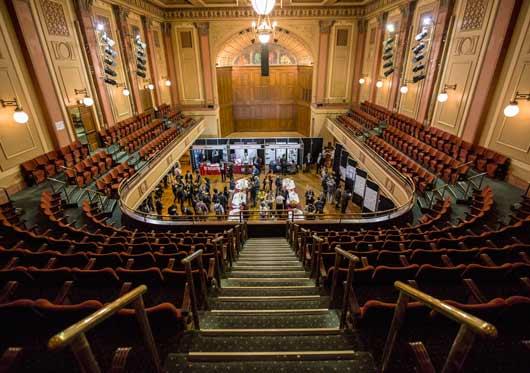 Cloud computing - the concept of storing data and applications remotely on hosted servers rather than at your own premi...
Our Tomorrow Projects is a not-for-profit social enterprise start-up.