Commercial real estate wellbeing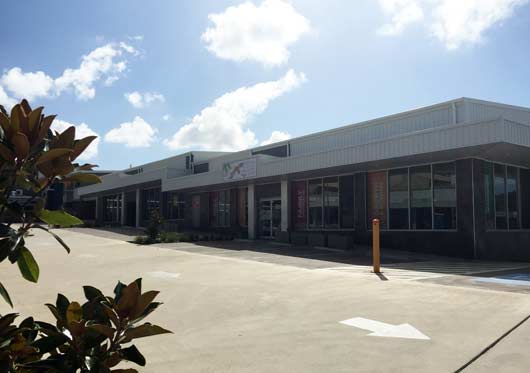 It's a little known fact that on Hillsborough Road Warners Bay is an incubator for the latest in innovative thought and design catering to the health and wellbeing of children, women and families.
Inspired by owner and developer James Harris, The Warners Bay Place is nestled behind Swim Mart and Wattle Paints and is between Bibina Groceries and Mitre 10 Hardware. James's father opened Sentas Slate on the site more than 30
years ago and it has been in the family ever since. James said, "It's been a dream of my mum and myself, to develop dad's 1.4 hectare site for many years – and two years ago we started to put it into reality."
Stage One at Warners Bay Place is almost fully tenanted and operational. It comprises two Little Beginnings childcare centres with 95 places in each, a paediatric chiropractic practice led by Dr Jacey Pryjma, along with Red Frog, an occupational therapy practice. There is also a hairdressing salon, café, a hot yoga studio and a general medical practice is in the pipeline.
Stage Two at The Warners Bay Place will see the establishments of a ballet school, Physiotherapy Practice and a Pilate's centre. The existing businesses Swim Mart and CBI Blinds will be moving into the brand new development.
The last remnants of the old metal clad buildings will soon be gone and commuters travelling along Hillsborough Road will see the full vision of the wide central driveway with parking either side, according to James. Another little known fact about The Warners Bay Place is that it's well served for parking with about 195 car spaces on site.
"All the suites, shops and offices face onto the car parks. We've designed the development so parking is handy and close to where you want to go – and there's no stairs – everything is pramfriendly with covered walk ways."
The Warners Bay Place is becoming a haven for likeminded businesses in health and family service.
"We are creating a place where businesses help and refer to one another," said James.
That said, Warners Bay Place is not only catering to health focussed operations, but see's the advantages of small legal practices, financial advisors and accountants anything that can benefit add to the other businesses whilst assisting families. Businesses locating in The Warners Bay Place have choices.
James, as a successful builder has the skills to undertake any form of fit out and "that's where we differ" James said.
"There are a range of sizes in the suites still available to choose. I then sit down with you, often by visiting your current premises, so we can design the perfect internal layout for your business. We design into your space, the number of, look and style of offices and consult rooms you need. We along with you design your kitchen and staff areas, reception and storage space."
As a tenant you get to choose the finishes such as floor coverings (carpet, linoleum, tiles), paint colours, lighting and electrical plan. James then lodges an application with council and works through the approval process. In the end, all businesses have to do is move in their furniture, put up their shingles and they are open for business.
Making decisions about how to customise a space can lead to some initial confusion for a small business. Owners generally never have to make these decisions. Small businesses usually have to put up with slotting themselves into someone else's space, and adjusting how they work to suit the space. The Warners Bay Place allows business owners to choose a suitable work environment and by doing so, the fitout/layout is optimised, saving you space and rental dollars.
The Warners Bay Place is a location where health and family professionals can work and grow in a safe friendly and convenient environment.
Other Articles from this issue
Pitcher Partners was named the Firm of the Year at this year's Accounting Awards, held in Sydney on 26 May.
Applications for funding from the Resources for Regions program are open to mining communities in local government areas...
Diamond ICTs Technology Optimisation (TechOps) team has been developed and refined out of the need to ensure business ne...