Collaborative hub for a clean, smart future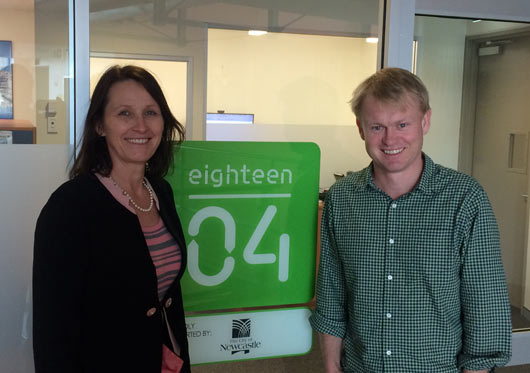 Dr Gunilla Burrowes and David Puxty outside co-working space at CSIRO.
Eighteen04
has been established as a co-working space for CleanTech and Smart City focussed startups in the Hunter. It provides a physical and cultural space to foster collaboration and networking for tech entrepreneurs that will form a new part of the innovation ecosystem in our region.
The aim of Eighteen04 is to support early stage startups seeking to transform our energy economy, environment and build smart and sustainable cities. Our emphasis is on scalable product-based enterprises targeting global markets. Software and hardware startups are welcome and the dedicated team and resident cohort will facilitate access to networks and create a focal point for local action.
Thanks to the CSIRO Energy Centre at Mayfield, Eighteen04 has found its first location with eleven desks that are already occupied by enthusiastic innovative companies. In time, Eighteen04 plans to grow to a 60-desk facility ideally in a city-centre location where residents can contribute to the growth and energy around the NeW Space education precinct.
Dr. Gunilla Burrowes, Chair of Eighteen04 Incorporated, said that Eighteen04 is a part of the exciting new future for Newcastle for which many people shared a vision.
"CleanTech and Smart Cities are two key global trends that Newcastle has the opportunity to lead for the benefit of not only our region but for the nation as a whole".
The regional heritage in generation and supply of energy to the state, together with the leading knowledge resources of the University and CSIRO Energy Centre makes it clear that we should build on this strength to create industries that will be a part of the energy future for the next century.
Dr. Burrowes said that an enthusiastic, hard-working and high calibre volunteer team had formed to establish Eighteen04 in just two months.
"Many of the team members are leaders in their own field", said Dr. Burrowes, "and combined with their professional talents there has been a culture of openness, networking and collaboration with a purpose that reflects the characteristics we hope to give to our startup entrepreneurs".
Founding members of the team include Dr. Andrew Mears and James Giblin. Both Dr. Mears and Mr. Giblin are residents of Eighteen04 and are working on start-up companies –
SwitchDin
and
Australian Energy Consultants
.
David Puxty from Fernlawn, was the first to take up residency at eighteen04 and is delighted to be a part of the concept.
"As a start-up you find yourself turning into an island. Eighteen04 has surrounded me with like-minded start-ups all facing the same issues and opportunities. Now we have the benefit of having 'colleagues' for advice and an ear whilst not losing the flexibility to adapt and move quickly in a business sense".
Fernlawn
offer remote monitoring technology to reduce the cost of servicing of bins and tanks.
Other Articles from this issue
Every economy goes through a 5 stage process - a downturn/decline, a bounce, a drag, a release and then an upturn or inc...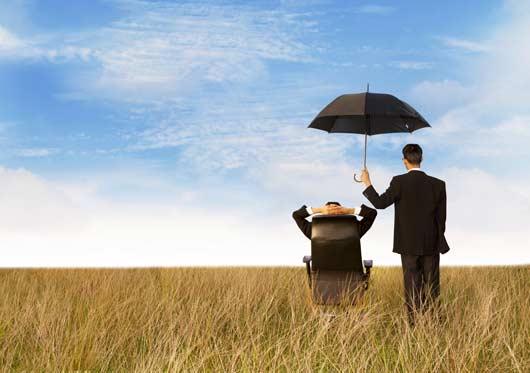 Newcastle is a Wetland City, surrounded by the Hunter Estuary, the Lake and the Bay.
Peter Siegmund, the owner of Maintain X, has launched a new service for Hunter property owners.
OAS Technology Group and their Minder Secure Cloud Services have moved into their new Newcastle offices after 12 years a...