Bean Counters support accountants of tomorrow
The local professional accounting and business community has continued its support of education pathways in the Hunter by announcing further donations to Hunter TAFE and Samaritans.
The Bean Counters Ball was established in 2010 by members of the local chapters of the Certified Practicing Accountants Australia (CPA) and Chartered Accountants Australia and New Zealand (CAANZ). The two industry groups joined forces to help raise funds that would provide education pathways for young people in the region.
The black-tie ball is held annually and last November a further $27,000 was raised and will be donated to local welfare agency Samaritans and the Hunter TAFE Foundation. This brings the total amount raised by the Bean Counters Ball to more than $67,000. Bean Counters Ball Chairperson, Chad Stead said the donations program was created by local accountants as a way of encouraging young people into accounting and supporting them through that journey.
"The partnership between CPA, CAANZ with the support of our sponsors and the local businesses community, is making a difference to the lives of people who need it most," Mr Stead said.
"Today's students are the future accountants of tomorrow so it's important for us to support young people to further their education," he said.
"Importantly, we also understand that some young people do not have the funds required to study, so we have worked with Samaritans and Hunter TAFE Foundation to identify young people who most need assistance and implementing packages designed to support them," he said.
Representatives of the Bean Counters Ball initiative officially presented a donation of $13,500 to Samaritans at the launch of its Mentor Program at its Student Accommodation on 28 May 2015. A further amount of $13,500 will be presented to Hunter TAFE Foundation.
Funds raised at the Bean Counters Ball go directly to supporting Samaritans Student Accommodation services at Wickham and scholarships for students studying accounting through the Hunter TAFE Foundation. The 2015 Bean Counters Ball will be held on Friday 30 October and will feature well known comedian Fiona O'Loughlin.
Other Articles from this issue
A special Commencement Ceremony was held on the NeW Space site on 29 May.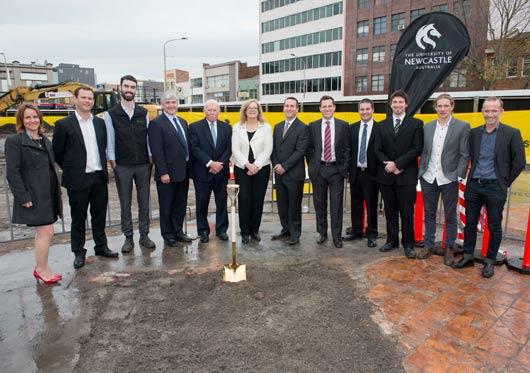 With a wide range of projects recently finished, under construction and planned, the revitalisation of Newcastle is quic...
LJ Hooker Toronto has secured a position on Australia's prestigious Top 50 Sales Offices' ranking, cementing them as one...