Activating the CBD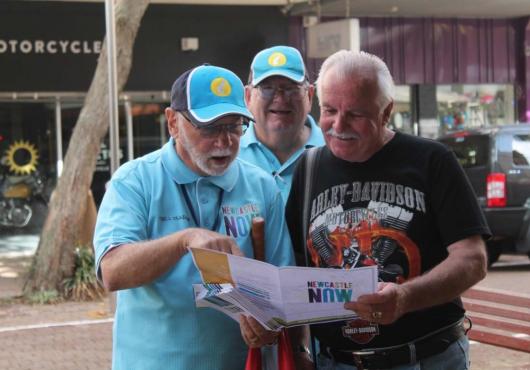 Newcastle NOW City Ambassadors John & Hayden helping out a visitor
Newcastle NOW
is a non-profit business improvement organisation, with its main role being activation of public spaces. "We don't do the big capital works projects that come under the domain of Council and State and Federal Governments. We're apolitical, working for the best outcomes of the city centre." says Edward Duc, Chairperson of Newcastle NOW.
Established about three years ago Newcastle NOW is an independent body funded by CBD business property owners. One of their first priorities was to form four main advisory groups to act as caretakers for their "village". It's a clever concept that engages local people in the place where they live, or work.
The groups include Civic, Darby, East End and West End. Honeysuckle is the fifth group and has most recently been created. Each advisory group is a committed group of volunteer residents and traders who are allocated a budget for projects to activate their areas through placemaking. Placemaking is a term used for low-cost, high-impact activity that enlivens an area, and it's also how some of the world's great cities, such as New York and Melbourne, have transformed themselves. Successful placemaking projects so far have been Darby Lane, Beresford Lane, Carpet on Bellevue, Little Birdwood Park, Hit the Bricks, and Wickham Parklet.
The installation of a brightly coloured parklet, transformed a previously empty section of Bellevue Street near Wickham Train Station, offering atmosphere, shade and a comfy place to sit. The West End Advisory Group and Newcastle NOW partnered with RailCorp and The City of Newcastle for this project.
Darby Street Community Garden is another Newcastle NOW project that is underway. At the corner of Bull Street and Darby Street is a fairly neglected little corner where a bus-stop stands. With a placemaking grant from the City of Newcastle and with collaboration between council, Newcastle NOW, property owners, urban farmers and other stakeholders, this little space is set to become a community garden. Local residents and visitors will be encouraged to engage in the space by planting and maintaining the garden, which will be filled with edible fruit trees, vegetables, herbs and medicinal plants. It's hoped that this project will inspire other community gardens in this city village.
Newcastle NOW has also been busy utilising the internet to connect with people. They've launched a new responsive website and geolocatable App that provides a central place for everyone to find information about what's on and where to shop, eat, drink, stay and play in the CBD. The App is called Newcastle NOW and is available for free download. They've also been key to getting free Wi-Fi out to over 50 locations in the CBD.
They welcome cruise ships into Newcastle, manage Nobbys Lighthouse & Grounds, and provide City Ambassadors. One of their other exciting collaborations is a landscape computing project called Kaooma. Using world first technology to capture data that can be used to measure everything from pedestrian traffic and sales conversion to the "vibe" on the street Kaooma is currently in the running to win the Internet of Things global CISCO challenge.
Newcastle NOW also sponsors events and projects that attract people to the city, such as Newcastle Writers Festival, Hunt & Gather Markets, Nowruz Persian New Year, and Surfest, to name just a few. Overall however it is advocacy that is the key role of Newcastle NOW. "We actively campaigned to have Nobbys excluded from the Port lease to ensure it stayed available to the community," said Edward "And we are now coordinating a significant community effort to refurbish the cottages." And at the moment he said, Newcastle NOW are focussing on working with Council to develop a parking strategy that will best meet the needs of the CBD. For more information visit
www.newcastlenow.org.au
Wickham Parklet – an activated space
Other Articles from this issue
Due to open in August, the old Lucky Country hotel situated on the corner of Crown and Hunter Street, and originally bui...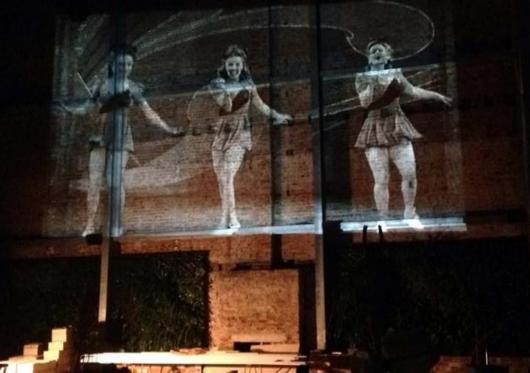 Development of the old Empire Hotel site has been announced with plans underway for a 14 storey apartment block that wil...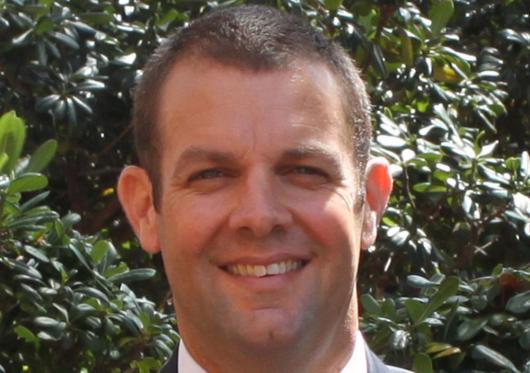 In everyday life many relationships are built on trust.