$3.5M INVESTMENT IN MANUFACTURING RESEARCH PARTNERSHIP TO TARGET BACTERIAL KILLER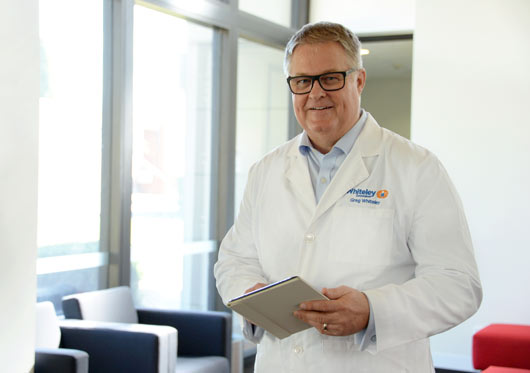 Pioneering solutions for biofilm infections are the focus of a collaborative research agreement between Hunter-based Whiteley Corporation, the University of Sydney and the Innovative Manufacturing Cooperative Research Centre. $3.5 million will be co-invested in the project over 4 years.
The research will be led by Dr Jim Manos and Dr Theerthankar Das from the Central Clinical School's Discipline of Infectious Diseases and Immunology in the University's multidisciplinary Charles Perkins Centre, and Dr Trevor Glasbey and Dr Greg Whiteley from the Whiteley Corporation.
Announcing the grant and the research agreement, Dr Whiteley said the work would be of major medical significance worldwide.
"Bacterial biofilms cause both human disease and death, and these microbes are also responsible for contamination in industrial and institutional settings," he said.
"This manufacturing research project aims to commercialise a series of combination therapies being developed in collaboration with the University of Sydney, arising from early findings by Dr Manos and his team."
"Once launched these new products will create new market opportunities for Whiteley Corporation in Australia and in export markets, particularly in the USA," said Dr Whiteley.
IMCRC CEO and Managing Director, David Chuter, said that incorporating advanced manufacturing technologies and processes into the project will be crucial to successfully commercialise the new formulated products.
Whiteley Corporation is the Hunter's leading manufacturer of disinfectants for healthcare and industrial cleaning products, with their main manufacturing facility located in Tomago.
This research will result in a novel manufacturing healthcare product and advanced chemistry technology markets for the Hunter region. The project will also increase industry diversification, create the need for new skills, and employment opportunities.
"The Whiteley Corporation has collaborated with universities around the world and as a local Hunter region manufacturer, we are leading the way in world class research," Dr Whiteley added.
Other Articles from this issue
On 8 may the Business Centre, together with Regional Development Australia (RDA) Hunter's ME Program and the Departmen...
Downer has been awarded a four-year contract to become the lead contractor for maintenance services at Origin Energy's E...
Operating since 1987 North Construction and Building is a medium size construction company that concentrates on work pri...