Virtual reality studio opens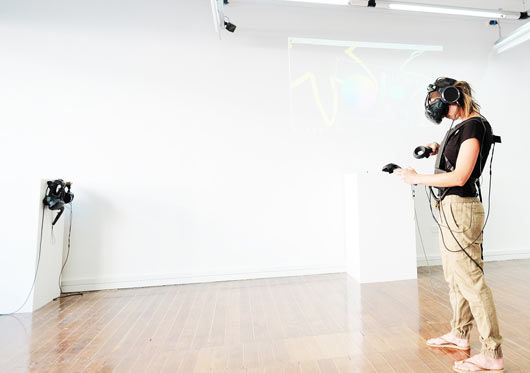 A new virtual reality studio has opened in Newcastle's East End providing the public with easy access to the immersive world of highend virtual reality.
VRXP (virtual reality experience) is located on 20 Watt Street and is a creative virtual reality experience studio, which enables everyone from retirees and families to technology enthusiasts and gamers to experience room scale virtual reality.
Founder, Andy Gallagher said the concept for VRXP evolved over years of closely watching the development of the technology.
"VR has changed considerably in recent years to the point we are at now, with amazing high-end room scale experiences on offer that are completely immersive," said Mr Gallagher.
"There are many entry level options emerging such as the Sony PlayStation VR and Google Cardboard, but we wanted to offer the best virtual reality experience possible at VRXP so we decided to use the HTC Vive which is the only true room-scale VR on the market. This means you can walk around and interact within a large area in the virtual world, it's an incredible feeling."
"We have created a turnkey experience that offers anyone the chance to enjoy the best of VR in a fun, social environment. VR is something you can do alone but is also great to experience with a group of family or friends," he said.
There is a growing list of VR experiences available. It is now possible to explore a shipwreck in the depths of the ocean, admiring sea turtles pass above you or compete in an action packed arcade game as you defend your space station against a hoard of robot drones. Mr Gallagher says that whilst entertainment is a key component of virtual reality use, it is also being used in a wide variety of applications in industry.
Versions of VR are now being used in education, medical research and training, architectural design, as a creative medium, and as an emerging communication tool.
The studio's fit out is expansive with clean white walls and pops of colour in red and pink hues. Motorised partitions quickly transform the open plan space into four VR spaces, each equipped with its own HTC Vive headset and controllers, headphones and a projector which allows spectators to see a 2D version of what the user is experiencing when in the virtual world.
VRXP is the brainchild of husband and wife duo Andy and Emily Gallagher, each bringing their diverse backgrounds to the table. Andy owns and operates his own video production business, Modular Productions whilst Emily works in public relations.
Other Articles from this issue
Financial independence, key person risk and being too busy to grow their business are some of the most common stresses f...
Gerard Maher, Managing Director of Pivotal Business Systems Pty Ltd has announced the acquisition of Andor Systems Pty L...
Over the past three years it feels like we have been bombarded by regular news articles associated with industries under...