Stage 2 of the Gateway
Stage 2 of the Gateway is now on the market. 12 Stewart Avenue, Newcastle West is an A Grade Commercial Office development with frontage to Hunter Street and Stewart Avenue, in the rapidly expanding commercial precinct of Newcastle West.
The development has been designed as two towers with a shared entry and car park.
Stage 1 of The Gateway set a new standard in design for the Newcastle market. Completed in January 2016 and fully leased, the Mine Wealth + Wellbeing building was delivered on time and demonstrates the developer's credentials in providing an outstanding
A Grade development per specification to the market.
The Gateway site required design excellence by the NSW Government Architect, to satisfy the Gateway provisions for strategic sites in the Newcastle area. Designed by PTW Architects and CKDS Architecture in collaboration, The Gateway Stage 2 has full NSW Government Architect approval and support.
Stage 2 of The Gateway is set to raise the bar again in the Newcastle market, delivering a world class A Grade Office building. It offers ground level retail and upper level office accommodation with ample parking, almost 70% over the requirements of the LEP.
The unique design allows for maximum flexibility in relation to office and retail areas as well as staged construction if required.
Located within 100 metres of the new Newcastle Transport Interchange (currently under construction), the location offers excellent transport access and is within 300 metres of Marketown Shopping Centre, providing more than 70 national and specialty shops and services.
Other Articles from this issue
A United Nations flag was raised in Civic Park 16 June when the UN's training arm handed over the global body's ensign t...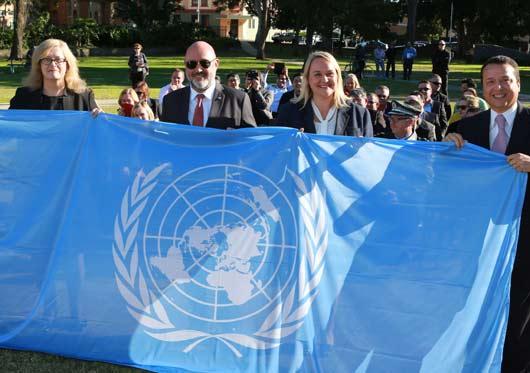 I am yet to meet a business or community leader who doesn't espouse the word 'culture' or 'leadership' with abandon.
The adverse effect on workplace culture and the personal impacts of bullying are now well-recognised and, unfortunately,...
More than $365 million in new development has been lodged with the City of Newcastle during the past three months.