Queen Elizabeth visit a highlight of cruise season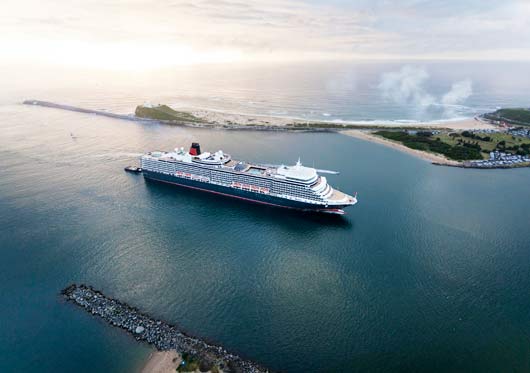 Passengers and crew of the Cunard vessel Queen Elizabeth received a warm welcome on 22 February from hundreds of onlookers who lined the Newcastle Foreshore and Stockton Foreshore.
The red and black cruise liner arrived in the Port of Newcastle at 7.15am, sailing past Nobbys Headland with 1,956 passengers and 989 crew on board.
After docking at the Channel Berth, the ship's passengers had the opportunity to explore the Hunter region and take part in the many shore excursions planned, from food and wine tours in the Hunter Valley, dolphin cruises at Port Stephens and Newcastle city highlights tours.
A civic reception was held to mark the vessel's connection to the 450 Squadron, which sailed on Cunard's original Queen Elizabeth to serve in World War II. Queen Elizabeth's captain Alistair Clark, along with veterans, their families, RAAF personal and local dignitaries attended the commemorative service. A 'keys to the city' welcome reception was also hosted in honour of the cruise ship.
Port of Newcastle's CEO, Geoff Crowe, acknowledged that Queen Elizabeth's visit was a highlight of the 2015-16 cruise season.
"It was terrific to see the warm welcome that our community provided to Queen Elizabeth today, and it was a privilege for the port to host Queen Elizabeth," said Mr Crowe.
"It is the first Cunard vessel to visit the Port of Newcastle since 1907.
"We appreciate the economic benefit that cruise ship visitors and crew bring to our region and hope that today is the first of many visits by Queen Elizabeth."
The Australian Cruise Association estimates that cruise shipping provides an injection of around $11 million per annum to the Hunter region's economy. Queen Elizabeth received a three-gun salute from Fort Scratchley as she departed the port.
Other Articles from this issue
A workplace health program is an activity or range of activities that aim to support and promote the health of employees...
Over the last couple of years the advertising and marketing world appears to have split into two opposing tribes.
The Hunter was a big winner at the 2016 Real Estate Business Top 50 Sales Offices report released in 11 February.