Munibung Road extension now open
Drivers will experience a smoother journey through north-west Lake Macquarie with the extension to Munibung Road now complete.
The completion of the 820m extension significantly improves connectivity around the northern suburbs of Lake Macquarie.
The $4.7 million project, jointly funded by the Australian Government and Lake Macquarie City Council, creates a faster and smoother journey through the City benefiting road users, while also laying the foundation for future growth in this area of the City.
Lake Macquarie Mayor Cr Kay Fraser said this project is another step forward in the growth of Lake Macquarie City. 
"This is a regionally significant infrastructure project that will unlock business investment, commercial development and housing opportunities, and it was vital this work continued despite COVID-19," Cr Fraser said.
"It has taken a significant amount of work to deliver this project and we acknowledge the Australian Government's patience and the support of the NSW Government to gain access to the site, allowing the project to proceed. 
"I look forward to when things return to normal, and our residents can use this extension to have faster, easier access through northern Lake Macquarie."
Council's CEO Morven Cameron said ensuring infrastructure projects like the construction of Munibung Road continue through the COVID-19 pandemic is essential to the City's economy.
"I am pleased Council and Daracon were able to continue with the design and delivery of this project, on schedule and on budget, considering the extenuating circumstances of COVID-19 towards the end of the project," Ms Cameron said.
"Infrastructure projects, such as this help our City continue to move forward, while providing both short-term and long-term jobs at this uncertain time for many people in our community."
The project was funded by the Australian Government through the Building Better Regions Fund and Lake Macquarie City Council.
Project by numbers
820m of new road, footpath and street lighting
66 trees and associated landscaping
14m road width with cycle-safe lane
Estimated nine-month construction duration
28 construction jobs and 41 long-term jobs generated
Former Pasminco site comprises 210ha, including 132ha of developable area
More than 1,000 athletes will converge on Lake Macquarie and Newcastle for the 2022 Australian Deaf Games following the ...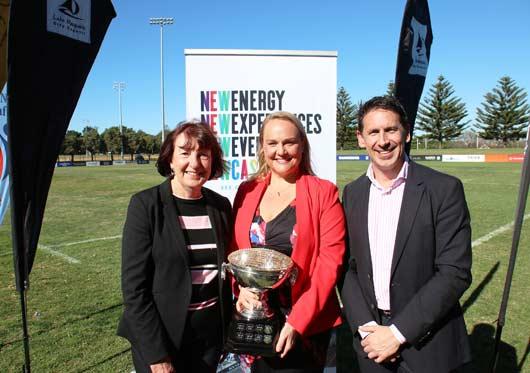 Producers and consumers in the Newcastle region and as far away as North West NSW could benefit from the NSW Government ...
The UON Research & Innovation Showcase will be held on 28/08/14
Cultural sector development program, Smart Arts will be returning to Newcastle following highly successful delivery of t...