Mining Skills Program continues to expand
Enrolments in the Hunter TAFE Mining Skills Program, at the Muswellbrook Campus, are up by 18% on last year's figures and so too are the number of industry partners.
The award-winning Program is designed for 1st year apprentices and places a strong emphasis on safety awareness. The Program recently commenced for the 11th consecutive year and covers training in basic hand tool skills across 4 different trades including Electrical, Fitting & Machining, Metal Fabrication & Welding and Automotive.
Hunter TAFE Faculty Director, Rob Wolter, believes the healthy enrolment figures are a nod to the sustained quality of the innovative program that prepares students with the skills, knowledge and experience to be job ready upon completion of the 15 week course.
"We are thrilled the course continues to attract both males and female apprentices- smashing stereotypes of what has long been regarded as a male dominated industry," Mr Wolter said.
"Hunter TAFE takes pride in collaborating with council, industry and the community to identify what skills are in demand in the Upper Hunter, both now and will be in the future. We are committed to delivering responsive education and training according to those needs," Mr Wolter said.
"The Mining Skills Program is effective because we continually engage a cross-section of stakeholders to ensure we address evolving industry requirements in the course syllabus and ultimately provide the industry with a job-ready workforce," Mr Wolter said.
The Program continues to capture the interest of industry partners including Port Waratah Coal Services and Novaskill, who have recently joined the program as employers.
In a move that has buoyed those behind the recently opened Sam Adams' College development, including Hunter TAFE and Muswellbrook Shire Council, just under one third of all students enrolled in the Program have snapped up the opportunity to take residence at the College- the first of its type in Muswellbrook.
To support graduates of the Mining Skills Centre and encourage them to advance their career with a post trade qualification with Hunter TAFE, the Mining Electrical and Mining Mechanical Engineering Society (MEMMES) has generously made a donation to the Hunter TAFE Foundation to establish two Scholarships. The MEMMES Scholarships will support one electrical graduate and one mechanical graduate, providing them with financial support to assist with the commitment to further education.
Other Articles from this issue
A Clarence Town woman has won the highest employee award for service at the organisation that she's served for 21 years.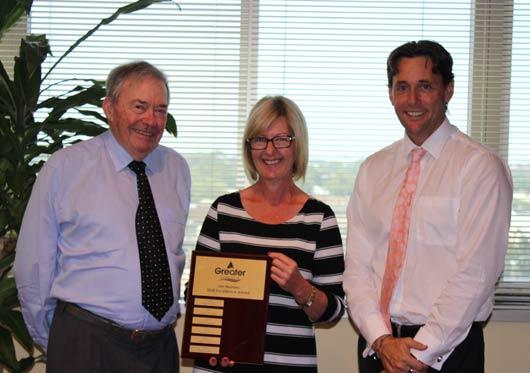 The Hunter-based Greater Building Society has received national recognition for its customer service for a third year ru...
Content marketing - and especially online video - is a rapidly growing area for marketers.
One of the most common fringe benefits provided to employees is the use of a vehicle such as a utility or a van.