Mines rescue celebrate 88 years of safety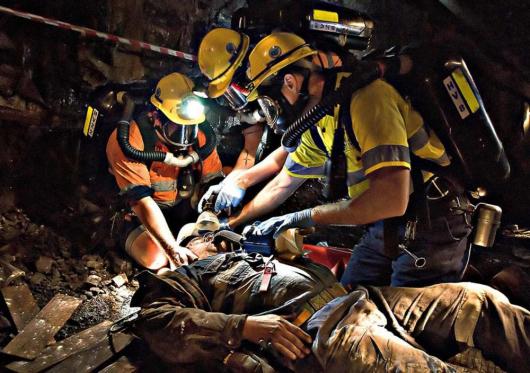 On Saturday 1 September 1923, 21 miners lost their lives in the Bellbird coal mine disaster. This incident followed several earlier mining disasters between 1887 and 1921 which killed a total of 293 people in NSW.
A coronial inquest and Royal Commission were conducted which extensively debated the value of breathing apparatus and the establishment of a mines rescue service. The Mines Rescue Act 1925 governed the establishment of rescue stations and Brigadesmen teams, and instigated equipment and maintenance standards.
This legislation remains the foundation for governing mines rescue operations in NSW today.
The first Mines Rescue station in NSW began operations on 20 March 1926 at Abermain. Stations in Newcastle, Wollongong and Lithgow opened shortly thereafter.
The focus on safety and incident prevention has come a long way since 1926. The primary role of Mines Rescue remains to provide emergency incident response to the NSW coal mining industry.
Equally important is the preventative role in preparing and training workers to operate safely, managing risk, occupational health and safety. Training now starts before most new workers ever set foot on a mine site and continues throughout their mining career, to help develop or maintain skills.
Mines Rescue is now a Registered Training Organisation (RTO) and provides training in a range of skills from basic hazard awareness to complex emergency management control, which has been a major contributor to the significant improvement in safety in NSW coal mines.
Today, NSW coal mining maintains one of the highest safety records in the world.
Coal Services Managing Director/CEO, Lucy Flemming says 'the industry statistics demonstrate the shift in safety focus. Workers during 2002 had a one in four chance of sustaining an injury whereas today the chance is less than seven in one hundred. We are continuing to work closely with industry towards the goal of zero harm'.
Mines Rescue General Manager, Paul Healey says 'The industry should be very proud of the advances we have all made over the last 88 years. The focus on getting our workers home safe to their families every day is everyone's responsibility; a responsibility we take very seriously.'
Mines Rescue is internationally recognised for the exceptional mine safety training it provides to NSW coal mine workers and the wider industry, in addition to its primary role to provide underground incident response.
Other Articles from this issue
Xero plans to bring its next generation banking model to Australia.
The cabinet reshuffle appointment of Mike Baird as the new NSW Premier has seen both Hunter ministers dumped
The approved start date for work on the $200 million marina at Trinity Point has been delayed until October 2016.
Applied Virtual Simulation has been awarded an AUD $17.9 million contract by the Australian Defence Force to deliver a s...