Local innovator revs up program to launch in North America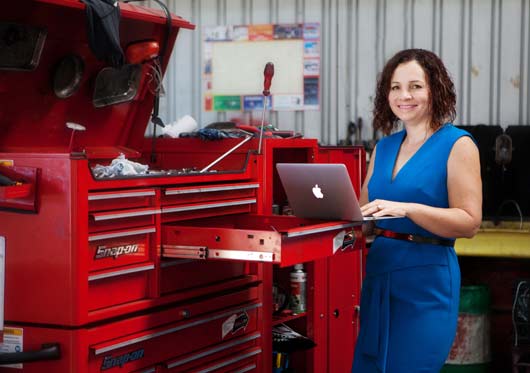 Necessity was the driver for one Hunter businesswoman's innovation that has disrupted the automotive after-market industry.
When Rachael Sheldrick used her corporate marketing skills to drive a run-down mechanical workshop into a thriving business, she never imagined it would lead to her launching a business in North America.
However, five years down the road, Mrs Sheldrick expects to launch The Workshop Whisperer by the end of May into the US and Canada.
The Workshop Whisperer is based on an eight-week business transformation mentor program for self-employed mechanics; she describes it as "a survival to success strategy."
Mrs Sheldrick knows it works because it was the process she used to take her husband Glen's new business, GS Mechanical, from zero to profit in three months and the profit has continued to double every six months.
As the word of the success spread, other mechanics started to ask Mrs Sheldrick for advice. As she started to mentor and educate them on how to run a business, Mrs Sheldrick realised she needed a one-to-many business model.
Her vision was a training platform to increase their efficiency and productivity by a minimum of 25%; to improve their cash flow cycle; and increase profitability for their individual businesses by 10 to 20%.
From scratch, she created an automated system that was easy to use, mobile responsive and user friendly as well as engaging. It also used personalised responses based on previous information.
Building this bespoke software was expensive, however, Mrs Sheldrick took a punt on herself, believing that one day it would pay off.
A chat with Lisa Kernes of Ignite Alliance saw Mrs Sheldrick receive Federal Government assistance through its Research and Development Tax Incentive. By meeting the eligibility criteria of being a company, and spending more than $20,000 on R&D in a financial year, Mrs Sheldrick was able to claim back 45 per cent of the platform's costs against the 2015/16 tax liabilities and received a cash refund. In 2016/17 she will be able to claim again.
With her expansion into North America, Mrs Sheldrick has also accessed the Export Market Development Grant. After spending more than $15,000, she will be able to claim 50 per cent of any additional expenses.
Mrs Sheldrick said she had no idea these types of grants were available.
"They have allowed me to invest again in the business' direction, especially the North American program and its marketing," she said.
Like many business owners, Mrs Sheldrick associated R&D and innovation with the high-tech sector.
It was not until she spoke to Mrs Kernes and local innovation expert Christina Gerakiteys, she realised her disruption on the industry.
"The mentor program is the only one of its kind. Then we created the industry's first non-competitive community where best practice is shared."
To date more than 3000 workshops have benefited from being part of The Workshop Whisperer community.
"When I started, I was just following my nose. Retrospectively, I realise I am an innovator because innovation is anything working towards change in any industry and it is everywhere."
"My advise is be the change that you know needs to happen. Don't wait for some one else to do it – jump in and be the maker and builder."
Other Articles from this issue
Brand reputation and exposure is paramount in the success of any business.
Telstra Business Centre Newcastle prides itself on helping customers improve the ways in which they live and work throu...
Construction is booming in Newcastle after the value of approved development soared 70 per cent last year to take the to...