Kirsten Molloy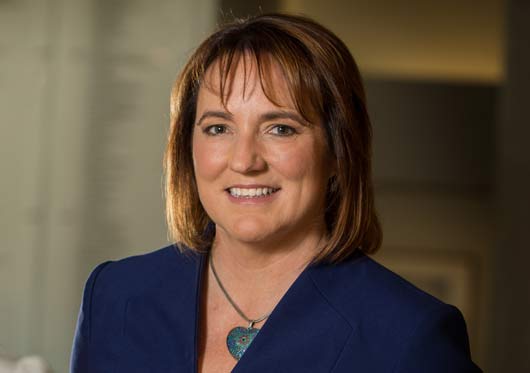 It coordinates coal logistics from mines through the track and rail network to terminals and ships. HVCCC also plans for and advises the coal industry on capacity and efficiency across the coal chain, to ensure contracts can be delivered effectively. The organisation is member based and industry funded. There are 20 members of the coal chain, and 20 directors of the company.
There is no typical day for Kirsten. She likes to walk through the office and see how things are going, spend time with the team and spend time with the members. The environment is complex, with many interests and issues at play. Given the highly collaborative nature of the model, there are many interactions and meetings to ensure good understanding, alignment on initiatives and responsiveness to issues and concerns.
Kirsten's technical training early in her career (including an honours degree and PhD in Chemistry) has provided a good basis and training in analytical thinking, an appreciation for technology and a process to work from ideas or hypothesis to outcomes. She also completed an MBA and especially appreciated the modules on change, HR, strategic negotiation and finance.
In terms of life experience, the desire to learn and grow has been important, how to handle situations where things go wrong, managing very different views and opinions, how to have alignment so outcomes can be delivered and being open to feedback (which sometimes is very difficult but is very important).
During her career, Kirsten had one manager that taught her about coaching and authentic leadership was possible and could be successful even in a very male dominated, tough, pace setting environment.
"For me he inspired a much broader interest in and appreciation of leadership," says Kirsten. "He advocated for me to be included in Executive Development programs after I returned from maternity leave and supported me to work part time during this period. He backed me when it really mattered."
Kirsten only became aware of gender balance issues when she started taking more senior roles. She had pay inequity issues a number of times and was also restructured out of a role whilst on maternity leave, making the return to work very difficult.
There were also times when she felt she was not been heard for a range of reasons – hierarchy, gender, age and level of role. Kirsten believes it is very important to have strategies to deal with this and look to other opportunities to be heard and have influence.
In Kirsten's current role with HVCCC she has a board of 20, nearly entirely male, but she feels well supported. She would, however, love to see greater diversity in leadership ranks. Kirsten founded Verity (which currently coordinates mentoring relationships for women in business) and is a co-founder of the Equal Futures project both of which support that purpose.
Her advice for other women is straightforward. "Go for it, research the challenges and be prepared for them, work out how to handle some of the situations you may face, build relationships, and seek support and feedback. Importantly, stay true to yourself – be who you are, not who others think you should be."
For the region, Kirsten would love to see the Hunter truly embrace its diversity and build on its strengths – the ability to deliver an innovative, liveable city with great jobs is going to depend on our ability to attract investment.
"Combining an innovative mining, engineering and manufacturing region, sitting side by side with great tourism and ground-breaking agriculture, providing great education options and innovative health care and health research – if we can maintain and grow our advantages in these areas and manage the seeming conflicts across this diverse portfolio, we will have an amazing, dynamic, modern region where people will want to live and can thrive."
Outside of work, Kirsten likes to spend time with her family and friends, travel, cook and grow a good garden. She also spends time on diversity programs with Verity and the Equal Futures Project, supports prevention of domestic violence (she is an Executive Producer on the documentary Iceberg supporting that goal), supports Scouts as a Region Commissioner Special Projects and sits on the SIDS and Kids Hunter Committee.
She likes to go to the Lambton Park Hotel – it is good and close to her home. She also loves the Locale, Corner Lane and Bar Petite.
Other Articles from this issue
The NSW tourism industry is set to receive a significant boost following the announcement by AccorHotels and Johnson P...
The numbers are undisputable: Australian financial planning is men's business.
Operating since 1987 North Construction and Building is a medium size construction company that concentrates on work pri...