Clarence Town woman wins The Greater's top staff award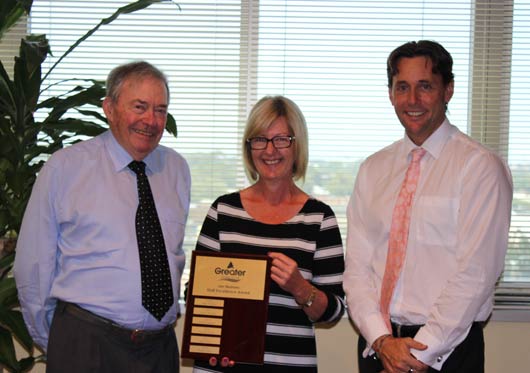 A Clarence Town woman has won the highest employee award for service at the organisation that she's served for 21 years.
Greater Building Society Operations Manager - Lending Services, Shane Greig, has won the Greater Building Society's Ian Nelmes' Staff Excellence Award.
Shane was chosen for the award by The Greater's executive, from among 800 staff across NSW and the Gold Coast. She was presented with the Award by Mr Nelmes and Greater CEO Scott Morgan at The Greater's headquarters in Newcastle on Tuesday February 16.
Mr Morgan said the award recognises performance and the contribution a staff member makes in demonstrating and promoting The Greater's cultural values and its mantra of putting customers first. He said Shane is flexible and willing to have a go. She has also volunteered as a mentor to young Hunter and Central Coast people with cerebral palsy as part of the Greater Charitable Foundation funded Cerebral Palsy Alliance mentoring programs.
The award, introduced six years ago, honours The Greater's former long-serving director Ian Nelmes. Mr Nelmes served The Greater for 31 years including 22 as chairman. He is currently the chairman of the Greater Charitable Foundation.
Other Articles from this issue
Over the last 10 years the marketing landscape has changed significantly. The ability to directly communicate and engage...
John Reminis has achieved more than most at 23 years-old, having placed second in the 2016 Baking World Cup (Coupe du Mo...
Western Australian based Civmec has completed the acquisition of Australia's largest privately-owned engineering and shi...
If we listen to the motivational speakers and the personal development bloggers, we should all be striving to be the bes...