Advitech celebrates 30 year anniversary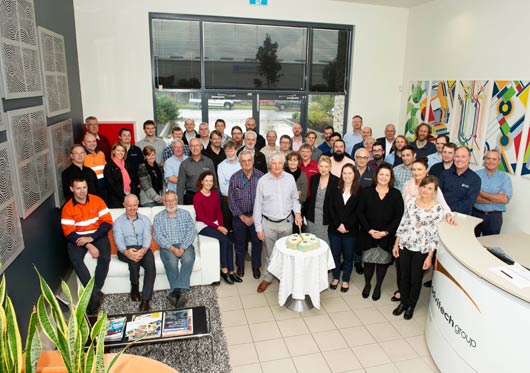 The Advitech Group is celebrating 30 years of driving innovation and excellence in the technical sciences for Australian businesses and government.
Focused on leading the way in STEM&M, The Advitech Group's businesses integrate expertise across science, technology, engineering, mathematics and manufacturing to match the demands of today's dynamic marketplace.
Over the years, The Group has worked with organisations large and small from a diverse range of industry sectors to provide solutions, reduce risk, improve efficiencies and achieve compliance. The Group continues to explore better ways of thinking and doing, providing the technical skills and resources required to make Australia the smarter country.
"We recognise that the future for Australia depends on knowledge, intensive smart manufacturing and services. Advitech and the Advitech Group is aligned with this future," said Larry Platt, Executive Chairman of The Advitech Group.
"We believe our uniqueness lies in the breadth of expertise we offer within a relatively small organisation and our agility in responding to our customers and their challenges."
"The foundations of science, technology, engineering and mathematics are essential to all that we do, and the innovations we create. Australia needs businesses with these skills and abilities."
When partnering with The Advitech Group, clients have access to a specialised team who think creatively and progressively – people with a genuine passion for collaborating across disciplines and developing ideas in conjunction with renowned universities and think-tanks. The Group is a unique technical sciences solution provider capable of bridging the gap between strategic intent and commercial reality.
Having provided business and government with the advantages they deserve and the outcomes they desire over the past 30 years, The Advitech Group now has the capabilities and respected reputation to deliver at a global level.
Other Articles from this issue
Northrop Consulting Engineers' Neil Petherbridge says Newcastle's burgeoning market is strong, with construction of res...
Lake Macquarie City Council is spearheading a push to substitute sand with recycled crushed glass in civil works project...
Evoke recently completed a quality office design and fitout project in Newcastle for Zenviron, a full-service balance-of...
In a bid to tackle repeat heart attacks, the National Heart Foundation will distribute 10,000 resource kits used to educ...