Wellness in the workplace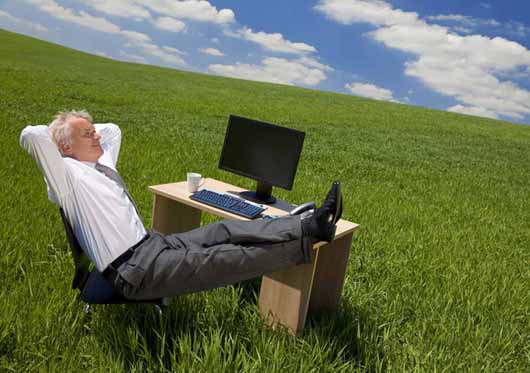 Jerry Kennard
Evoke Projects
Given that most of us spend over 30% of our time in the workplace, it seems obvious that our work environment can impact our health. But what constitutes a work 'environment' and what can employers do to improve wellness in the workplace?
Firstly, it pays to recognise that wellness in the workplace is about more than a duty of care towards employees. Think about the most dynamic companies of our time. Perhaps Google, Microsoft or Twitter spring to mind? Interestingly, these companies made it onto Greatist's list of Healthiest Companies to Work For in America (greatist.com/health/healthiest-companies). They recognise that happy people are productive people and these businesses focus on 'environment' as a way of attracting and retaining the best talent. Other healthy companies include Eventbrite (they even have a Zen room!), General Electric and Accenture.
The environment at work is made up of technology, the culture of the company and the physical setting and facilities at the office. When all these come together well, the result is engagement, happiness and productivity. This leads to an office filled with high achievers who get results and drive profitability. In nature, seeds thrive in the right environment and it is the same for staff potential. A seed planted in the desert is unlikely to reach its full potential, but a seed planted in the tropics will produce a very different result. You can bring the potential of the tropics to your office by introducing elements such as water features, music, plants and breakout areas with exercise bikes or yoga balls.
The converse, of course, is an office with low morale, staff with stress-related health problems and an increase in sick days. This is often the result of a failure by management to invest in the office environment and therefore the people. Humans are individuals, with different needs and work styles and therefore 'zoning' should form part of every office plan. Each zone offers different philosophical toning and promotes the varied emotions needed for wellness and productivity. For example, areas can be designed for collaboration, focus, learning, socialising and what we call the 'bump' area – opportunities for impromptu meetings.
Evoke Projects has worked with many Australian companies to develop their zoning plans and office designs. We have a variety of tools, but a favourite of mine is Place 2.5 design and furniture. Place 2.5 recognises that social science defines our home and work as places 1 and 2 in our world. Then there is a '3rd place', such as a café, where we go to relax, where we feel recharged and happy. Place 2.5 is half way between work and recreation, with intelligent design and furniture solutions that bring the 3rd place benefits to the office. It is about driving motivation, staff retention and productivity.
Place 2.5 presents opportunities for Australian companies to embrace wellness at work. For example, height-adjustable desks encourage periods of stand-up working, which improves energy levels and posture. Multifunctional storage solutions allow individuality, while easily configured privacy and acoustic screens assist with cost-effective zoning.
Companies are as individual as the people who work in them,so you cannot have a 'one size fits all' approach. Before making recommendations, our office design team always take care to understand the office dynamics and look for opportunities to improve business processes.
Other Articles from this issue
CEDA (the Committee for Economic Development of Australia) has released an important document entitled A Federation for ...
Recipients of the annual Cessnock Mayoral Scholarships were announced 4 May.